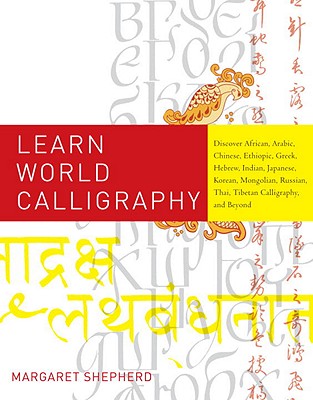 Learn World Calligraphy: Discover African, Arabic, Chinese, Ethiopic, Greek, Hebrew, Indian, Japanese, Korean, Mongolian, Russian, Thai, Tibeta (Paperback)
Discover African, Arabic, Chinese, Ethiopic, Greek, Hebrew, Indian, Japanese, Korean, Mongolian, Russian, Thai, Tibeta
Watson-Guptill Publications, 9780823033461, 192pp.
Publication Date: August 23, 2011
Description
Learn World Calligraphy has something for everyone. Whether you want scholarly insight, artistic inspiration, classroom projects, or a theme for your next party, this comprehensive, unparalleled full-color book will guide you on a virtual trip around the globe. Covering nearly all of the world's writing systems--from African to Arabic, Chinese to Greek, Hebrew to Russian, and beyond--Learn World Calligraphy offers a unique glimpse of scripts worldwide and the calligraphers who write them.
Lushly illustrated with gorgeous examples of both historical and modern calligraphic designs, this book is filled with practical instruction for how key aspects of each exotic script can be applied to the English alphabet, generating calligraphic hybrids with a distinctly foreign flair. Like a new cuisine that you can't wait to cook at home, the scripts you meet in this book are sure to infuse your own calligraphy with the flavor of abroad. Bon voyage.
About the Author
MARGARET SHEPHERD is a renowned calligrapher, prolific author, and popular lecturer. For more than three decades, starting with the classic Learn Calligraphy: The Complete Book of Lettering and Design, Ms. Shepherd has penned numerous instructional books that have helped legions of aspiring calligraphers discover their talent. She resides in Boston, Massachusetts.
Advertisement