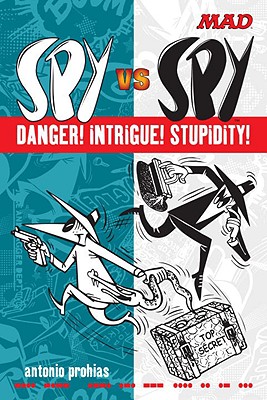 Spy Vs Spy Danger! Intrigue! Stupidity! (Paperback)
Watson-Guptill, 9780823050529, 192pp.
Publication Date: August 11, 2009
Description
Don't Go Stir Crazy
Break Out of the Doldrums

Danger Intrigue Stupidity locks up a collection of crazy clashes between those two bumbling MAD Spies
-Spy vs. Spy- was the brainchild of Cuban-born political cartoonist Antonio Prohias, who fled his country after receiving death threats from Fidel Castro. Prohias settled in America, and in 1960 he began a 26-year run of Spy misadventures in MAD Magazine. This book by Prohias, long out of print, showcases his genius as an artist, storyteller, and graphic designer.
About the Author
Antonio Prohias was an award-winning and influential political cartoonist in Cuba. Once Castro seized control of the free press, Prohias fled from Havana and settled in America. Soon he presented a -captivating cartoon of a friendly rivalry- to MAD Magazine. It has gone on to become one of the magazine's best-loved features. He died in 1998.
Advertisement