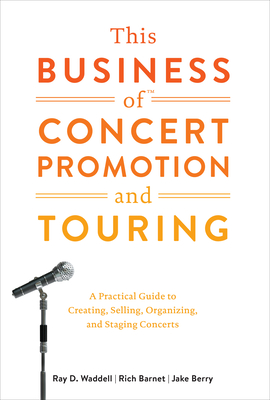 This Business of Concert Promotion and Touring: A Practical Guide to Creating, Selling, Organizing, and Staging Concerts (Hardcover)
A Practical Guide to Creating, Selling, Organizing, and Staging Concerts
Billboard Books, 9780823076871, 261pp.
Publication Date: October 2, 2007
Description
The only book that looks at the business of concert promotion. Concerts are part art, part party--and a big part business. This Business of Concert Promotion and Touring is the first to focus on that all-important business aspect, from creating a show, to selling a show, to organizing the show, to staging the show. Working with venues, personnel, booking, promoting, marketing, publicity, public relations, financial management, and much more are covered in this indispensable one-volume resource. And the ideas and techniques explained here can be used for every type of concert promotion, including college shows, artist showcases, club gigs, as well as major events handled by local promoters, nationwide promoters, and worldwide promoters. Concert promoters and tour managers at every level need to know This Business of Concert Promotion and Touring
About the Author
Roy Waddell is Senior Writer, Touring, for Billboard magazine. His weeklycolumn, On the Road, keeps him inregular touch with agents, promoters, artist managers, business andvenue managers, ticketing agencies, and everyone elseassociated with this business of concerts.He lives in Hendersonville, TN. Richard D. Barnet, a professor in theDepartment of Recording Industry atMiddle Tennessee State University, isco-author of Controversies of theMusic Industry. He lives in Nashville, TN. Jake Berry, co-owner of ProductionAlliance, has worked in productionmanagement of tours by Tina Turner, the Rolling Stones, Madonna, AC/DC, Metallica, and Motley Crue. He livesin Scottsdale, AZ.
Advertisement