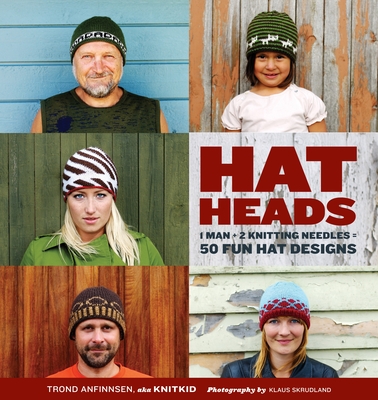 Hatheads: 1 Man + 2 Knitting Needles = 50 Fun Hat Designs (Paperback)
1 Man + 2 Knitting Needles = 50 Fun Hat Designs
Potter Craft, 9780823092369, 176pp.
Publication Date: July 28, 2009
* Individual store prices may vary.
or
Not Currently Available for Direct Purchase
Description
After teaching himself to knit, author Trond Anfinnsen found that pull-on hats aka beanies or skullies were the perfect-size project. As his pile of hats grew, so did his knitting skills, and soon he began personalizing the hats for family, friends, and friends of friends. Each person received a unique hat designed to suit his or her coloring, personality, and style all for free. Trond eventually teamed with photographer Klaus Skrudland to document what had become an interactive art project, taking portraits of each recipient in his or her hat. Together, the two created, gave away, and photographed more than 200 hats.
HatHeads shares 50 of these hats, all the same beanie shape but with a wide range of designs, offering something for everyone. Each hat is modeled by its recipient, with a full pattern and a funny, affectionate description of how that person inspired the design. Readers then learn how to pick up where Trond left off and create unique, personalized hats for their own friends and loved ones.
Designed in a fresh, graphic style, HatHeads is as unique as its hats, a heartwarming celebration of people, knitting, and the joys of giving.
About the Author
TROND ANFINNSEN, also known as Knitkid, is a journalist and musician who taught himself to knit in 2006. He has since made more than 200 one-of-a-kind hats for friends, family, and lucky people around the world. You can find him at www.knitkid.no and knitkid.blogspot.com. Trond lives in Stavanger, Norway. This is his first book. KLAUS NILSEN SKRUDLAND is a freelance photographer, musician, and registered nurse who has no idea how to knit. He lives in Stavanger, Norway, with his dog, a black Labrador named Zanto. You can find him at lapsklaus.com."
Advertisement