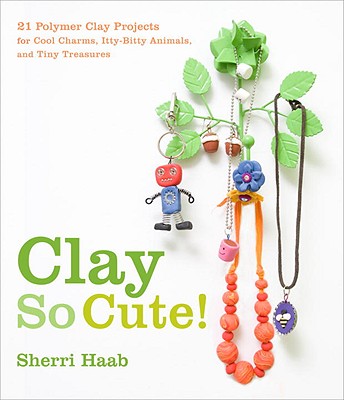 Clay So Cute!: 21 Polymer Clay Projects for Cool Charms, Itty-Bitty Animals, and Tiny Treasures (Paperback)
21 Polymer Clay Projects for Cool Charms, Itty-Bitty Animals, and Tiny Treasures
Watson-Guptill Publications, 9780823098996, 112pp.
Publication Date: July 21, 2009
Description
"Clay So Cute "shows how one of the easiest mediums polymer clay, which need only be baked in the oven can be sculpted into quick, simple, totally fun jewelry and accessories for tween girls including bangles, pocket mirrors, earrings, chunky bead necklaces, and cute charms.
"Clay So Cute "teaches simple, step-by-step illustrated techniques to make 21 tween- and teen-friendly projects that are more sophisticated than "kid stuff," but trendier than the pieces found in adult clay books from robot key chains to polka-dot ponytail holders. Using only a few simple tools and updated colors, Sherri Haab has created a collection of eye-catching jewelry and accessories that crafty girls will love. Whether making them yourself or with mom or a friend, there's a project in here that you won't be able to resist and that all the girls in your class will want, too
Among the projects are:
Cupcake Charms
Japanese Fun Foods
Bottle Cap Necklace
Wishing Stone Jewelry.
About the Author
SHERRI HAAB is the bestselling author of "The Art of Metal Clay," "Designer Style Jewelry," and "The Art of Resin." Her books for tweens include "The Hip Handbag Book," "Way to Crochet," and "Dangles and Bangles." Her "Incredible Clay Book" and "Nail Art" each sold more than 1 million copies. In all, she has more than 2.5 million books in print around the world.
Advertisement