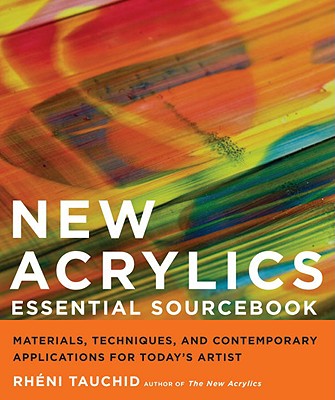 New Acrylics Essential Sourcebook: Materials, Techniques, and Contemporary Applications for Today's Artist (Paperback)
Materials, Techniques, and Contemporary Applications for Today's Artist
Watson-Guptill, 9780823099269, 192pp.
Publication Date: July 14, 2009
* Individual store prices may vary.
or
Not Currently Available for Direct Purchase
Description
Rheni Tauchid's bestselling The New Acrylics is an invaluable overview of modern acrylic paints. Her follow-up, New Acrylics Essential Sourcebook, is an in-depth, must-have resource for today's acrylic artist. By guiding you to a higher level of adeptness and fluidity in the handling of your materials, it brings you closer to true mastery of the medium.

Moving beyond a focus on the technical properties of acrylic paints, this new book opens your mind and eyes to the artistic possibilities that are uniquely suited to the medium. Once you become familiar with what acrylic paint is, you are ready to explore what it can become. Focusing on specific technical and application processes, this invaluable handbook demonstrates the many techniques used to produce the varied effects and painting styles that you can achieve with this most versatile of all painting media.

Clearly and beautifully illustrated with photographs of the techniques and effects, as well as stunning work by the author and other leading acrylic artists, this book expands the breadth of your potential as an artist by giving you a deeper understanding of the essence of your medium.
About the Author
RHENI TAUCHID is the head of product development at Tri-Art, a manufacturer of acrylic artist paints and mediums. An accomplished artist, she conducts workshops and lectures on acrylics throughout the United States and Canada.
Advertisement