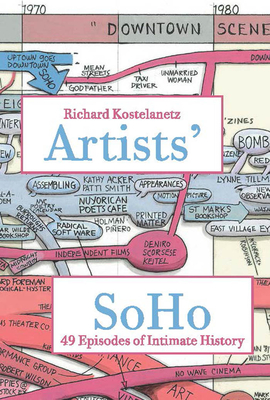 Artists' Soho
49 Episodes of Intimate History
Paperback

* Individual store prices may vary.
Description
During the 1960s and 1970s in New York City, young artists exploited an industrial wasteland to create spacious studios where they lived and worked, redefining the Manhattan area just south of Houston Street. Its use fueled not by city planning schemes but by word-of-mouth recommendations, the area soon grew to become a world-class center for artistic creation--indeed, the largest urban artists' colony ever in America, let alone the world.
Richard Kostelanetz's Artists' SoHo not only examines why the artists came and how they accomplished what they did but also delves into the lives and works of some of the most creative personalities who lived there during that period, including Nam June Paik, Robert Wilson, Meredith Monk, Richard Foreman, Hannah Wilke, George Macuinas, and Alan Suicide. Gallerists followed the artists in fashioning themselves, their homes, their buildings, and even their streets into transiently prominent exhibition and performance spaces. SoHo pioneer Richard Kostelanetz's extensively researched intimate history is framed within a personal memoir that unearths myriad perspectives: social and cultural history, the changing rules for residency and ownership, the ethos of the community, the physical layouts of the lofts, the types of art produced, venues that opened and closed, the daily rhythm, and the gradual invasion of "new people." Artists' SoHo also explores how and why this fertile bohemia couldn't last forever. As wealthier people paid higher prices, galleries left, younger artists settled elsewhere, and the neighborhood became a "SoHo Mall" of trendy stores and restaurants. Compelling and often humorous, Artists' SoHo provides an analysis of a remarkable neighborhood that transformed the art and culture of New York City over the past five decades.
Fordham University Press, 9780823262823, 288pp.
Publication Date: November 1, 2014
About the Author
RICHARD KOSTELANETZ is a critical cultural historian and literary artist who has been active in New York arts for more than five decades. He moved to SoHo just as it was being developed by the arts community and his loft studio home aptly named Wordship became legendary. Now residing along the L-Train in FarEast BushWick, he is a rare living witness to the life and times of New York City's artistic neighborhoods.
or
Not Currently Available for Direct Purchase