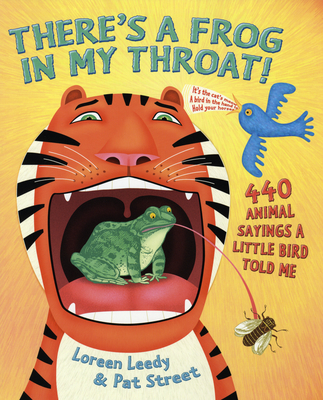 There's a Frog in My Throat! (Paperback)
440 Animal Sayings A Little Bird Told Me
Holiday House, 9780823418190, 48pp.
Publication Date: March 15, 2004
* Individual store prices may vary.
Description
Have you heard the buzz? 
 
Kids book experts Pat Street and Loreen Leedy worked like dogs (that is, they worked very hard) to pull a rabbit out of a hat (do something amazing) and create this hilarious, comprehensive introduction to similes, metaphors, and idioms. 
 
Pairing hilariously literal illustrations—like a duck in scrubs for a quack, or a hen's chicken scratch handwriting—with simple explanations of the expressions, There's a Frog In My Throat! introduces more than four hundred common sayings, and puts them into easy-to-understand context. Each page is packed with cartoonish illustrations and intriguing expressions.
 
Readers will be drawn like a moth to a flame to this fascinating book, equal parts reference and entertainment.  Perfect for readers starting to study figurative language and use it in their own writings, or for English language learners of all ages, this picture book is the bee's knees—it's terrific!
 

For more expressive, idiomatic sayings, check out Pat Street's You're Pulling My Leg!, too—quick as a bunny!

An ALA Notable Book
A Bank Street Best Children's Book of the Year
About the Author
Loreen Leedy's nonfiction books are staples in classrooms across the country and have been widely recognized with awards and great reviews. Ms. Leedy lives in Florida. Learn more on her website at www.loreenleedy.com.

Pat Street has written and edited Language Arts educational materials for many years. She also collects and writes about sayings, and has more than a million in her database! Her previous sayings book, There's a Frog in My Throat! 440 Animal Sayings a Little Bird Told Me, was a joint project with Loreen Leedy. In a starred Booklist review, it was called "more fun than a barrel of monkeys!" Pat lives in Orlando, Florida, with her husband, who is also her best friend, and their two entertaining cats.
Praise For There's a Frog in My Throat!: 440 Animal Sayings A Little Bird Told Me…
*"It's more fun than a barrel of monkeys! . . . a volume to crow about!"—Booklist, Starred Review
 
"a very enlightening collection of common expressions, including similes, metaphors, idioms and proverbs, amusingly illustrated"—The New York Times Book Review
 
"It will provide substantial browsing pleasure to both animal lovers and children curious about language. The cat's pajamas!"—Kirkus Reviews
 
"Like a moth to flame, readers will be drawn to this entertaining book. . . . This title is perfect for anyone who wonders about the meaning of everyday expressions, and it makes a good language reference tool."—School Library Journal
 
"a rare and useful bird."—Horn Book Magazine
 
"Bright-eyed and bushy-tailed readers should have a whale of a time perusing these diverting, creatively cluttered pages."—Publishers Weekly
 
An ALA Notable Book
A Bank Street Best Children's Book of the Year