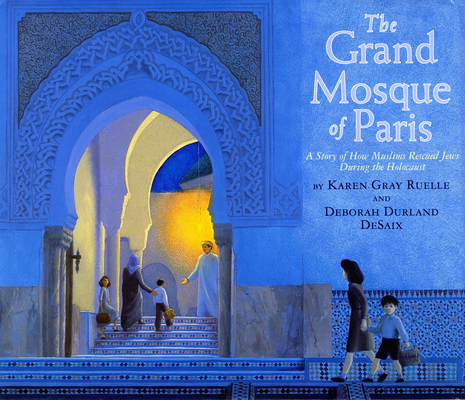 The Grand Mosque of Paris
A Story of How Muslims Rescued Jews During the Holocaust
Hardcover

* Individual store prices may vary.
Other Editions of This Title:
Paperback (6/1/2010)
Description
When the Nazis occupied Paris, no Jew was safe from arrest and deportation.

Few Parisians were willing to risk their own lives to help. Yet during that perilous time, many Jews found refuge in an unlikely place--the sprawling complex of the Grand Mosque of Paris. Not just a place of worship but a community center, this hive of activity was an ideal temporary hiding place for escaped prisoners of war and Jews of all ages, especially children.

Beautifully illustrated and thoroughly researched (both authors speak French and conducted first-person interviews and research at archives and libraries), this hopeful, non-fiction book introduces children to a little-known part of history. Perfect for children studying World War II or those seeking a heart-warming, inspiring read that highlights extraordinary heroism across faiths.

Includes a bibliography, a recommended list of books and films, and afterword from the authors that gives more details behind the story.
Praise For The Grand Mosque of Paris: A Story of How Muslims Rescued Jews During the Holocaust…
"The authors of Hidden on the Mountain: Stories of Children Sheltered from the Nazis in Le Chambon (Holiday House, 2007) return to France to uncover a little-known story. While they admit that 'many of the details are destined to remain forever uncertain, with few facts proven to a historian's satisfaction,' Ruelle and DeSaix feel strongly that the bits and pieces of information that they were able to unearth provide convincing evidence that the Muslims of the Grand Mosque of Paris saved Jewish lives. . . .  this well-researched book belongs on the shelves of most libraries."—School Library Journal

"The book begins with a quote found in Islamic and Jewish traditions: 'Save one life, and it is as if you've saved all of humanity.' . . . This is a fascinating, little-known piece of history (the afterword explains how difficult it was to research). . . . The evocative paintings in somber colors heighten the tension, but some, like the one of a Jewish girl in front of an intricately designed mosque wall, capture the hope."—Booklist
Holiday House, 9780823421596, 40pp.
Publication Date: September 15, 2009
About the Author
Karen Gray Ruelle is a decorated author who has written over 20 children's books.

Deborah Durland DeSaix, a former college professor, has written and illustrated many picture books for children. Reviews for her artwork are outstanding. Booklist praised her art in Know What I Saw by Aileen Fisher saying, "De Saix steals the show, though, with lush, photorealistic scenes that are both large enough to sweeten the subtraction lesson built into the 10-to-1 countdown premise." She now lives in Asheville, North Carolina