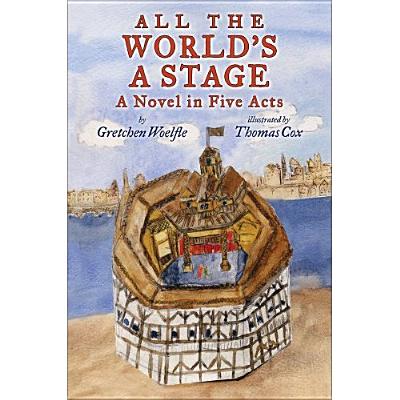 All The World's a Stage (Hardcover)
A Novel in Five Acts
Holiday House, 9780823422814, 176pp.
Publication Date: February 1, 2011
* Individual store prices may vary.
Description
Suddenly a hand gripped the back of his neck. "Cutpurse!" Kit is caught! Twelve-year-old orphan Kit Buckles, seeking his fortune in Elizabethan London, has bungled his first job as a pickpocket at the Theatre Playhouse where the Lord Chamberlain?s Men are performing. To avoid jail, Kit agrees to work for the playhouse and soon grows fond of the life there: the dramas on- and offstage. Things get truly exciting when Kit joins the plot to steal the playhouse from the landlord who has evicted the company.
About the Author
Gretchen Woelfle's book for young readers Jeannette Rankin: Political Pioneer received the 2008 Once Upon a World Children's Book Award from the Simon Wiesenthal Center. This is her first novel. She lives in Los Angeles, California.
Praise For All The World's a Stage: A Novel in Five Acts…
In Elizabethan England, 12-year-old Kit is one of hundreds of boys from the countryside who arrive in London to seek a trade. Unfortunately, Kit's first apprenticeship is with a gang of thieves, who order him to steal purses from the crowd at the Theatre playhouse, where Shakespeare is the writer in residence.

After Kit is caught, the Theatre's managers give him the option of working off his crime, and what begins as a punishment turns into a thrilling opportunity as Kit becomes an indispensable stagehand and falls in love with theatrical life. Woelfle adds additional tension with a story, based on true events, of the players' eviction from one site, and the secret, rushed dismantling of the timbers that eventually formed the Globe Theatre at a different location. But the most compelling drama is Kit's universal search for his calling and

his shifting friendships, particularly with a girl so clever that even Shakespeare quotes her. An author's note, a glossary, and a bibliography add more curricular tie-ins, while frequent charming drawings enhance the sense of time and place.

— Gillian Engberg


A novel of Elizabethan theater centers around an unsuccessful thief. Kit is caught up in the excitement of a performance by the Lord Chamberlain's men at the Theatre. Unfortunately, he is a penniless, runaway 12-year-old orphan forced to work as a cutpurse, stealing money from audience members. Distracted by the drama, he fails in his first attempt and agrees to work for the players to avoid prison. Reluctantly, he is caught up in their hectic world of rehearsal and performance. Woelfle opens a revealing window into 1590s London and its dynamic theater scene. There are intriguing snapshots of one William Shakespeare, who finds his inspiration from street songs and conversations he overhears. Men and boys play the roles of women, sew costumes, rehearse speeches and sword fights and build sets. The scene stealer here is the intrigue behind the stealthy deconstruction of the Theatre and its rebuilding as the Globe due to a legal squabble with the landlord. Against this backdrop, Kit grapples with his own career choices, growing into the satisfying realization that carpentry is his calling. Young Molly, who sells apples in the theater, is a welcome friend and foil. Readers of Gary Blackwood's The Shakespeare Stealer (1998) will find this equally exciting. The conceit of organizing the story through acts and scenes in lieu of chapters sets the stage nicely for a dramatic tale. -Kirkus Reviews


This accessible, you-are-there saga of Elizabethan London and the Lord Chamberlain's Men (the theater troupe home to Will Shakespeare et al.) is suitably nuts-and-bolts given its protagonist, a young cutpurse turned carpenter. Country boy Kit, newly orphaned, has come to the big city to make his fortune. Pressed into service by the Chamberlain's Men after he's caught trying to steal patrons' purses, he comes to know theater life from the inside out. Kit works as stage boy, messenger, and even bit player as he strives to find his place in the world. Both novel and Kit's search culminates with the bold "theft" of the playhouse from under the nose of a threatening landlord. Readers will be enthralled as, piece by piece, the playhouse is dismantled and rebuilt (as the famous Globe Theatre); simultaneously, Kit falls in love with the art of carpentry ("'Tis work that will satisfy my heart and my head"). Woelfle sprinkles the narrative with just enough "twas"s and "he knew not"s to add flavor without seeming contrived, and Kit's journey from lost boy to young man with a future is as satisfying as the detailed portrait of place and time. Martha V. Parravano Horn Book Review
or
Not Currently Available for Direct Purchase