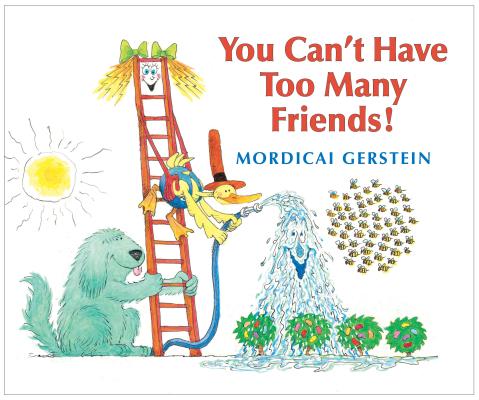 You Can't Have Too Many Friends! (Hardcover)
Holiday House, 9780823423934, 32pp.
Publication Date: February 1, 2014
* Individual store prices may vary.
Description
Duck the duck grows mouthwatering marshmallows and licorice whips. His jelly beans won first prize at the fair. No wonder the king wants to borrow the scrumptious treats. However, getting the tasty treasure trove back will not be easy. Yet with the help of a number of unusual friends and their magical powers, Duck might have some luck. Mordicai Gerstein has reimagined a French folktale, retelling it in jaunty, repetitive language that is sure to make this book a story time favorite. By combining techniques from several artistic forms, including animation, comic book art, and traditional illustration, he has created a captivating new style.
About the Author
Mordicai Gerstein is a painter, sculptor, designer, and director of animated films. However, he is probably best known as a Caldecott Medal-winning children's book author and illustrator. In addition to The Man Who Walked Between the Towers, his books include The White Ram and A Book. He lives in western Massachusetts.
Praise For You Can't Have Too Many Friends!…
"A rib-tickling variant on a tale not often enough retold."—Kirkus Reviews
 
"an entertaining story of justice and jelly beans."—Publishers Weekly
 
"This is a lighter-than-air confection, but the playful message will appeal to children, who will enjoy the story's simple sense of fairness and broad good humor."—School Library Journal
 
"Listening children will anticipate the role of each of Duck's pals and will enjoy seeing the king's nasty acts rightfully rewarded . . . This is anything but a heavy-handed moral treatment, though—Gerstein's pen-and-ink, acrylic, and colored-pencil illustrations employ a cheerful palette, with scribbly lines and dialogue bubbles."—The Horn Book
 
" The strength of this retelling lies in its comfortable rhymes and repeated phrases that make story details easy to remember and anticipate. Additionally, the choice of present tense for most of the tale places listeners within the story and makes them part of the action. Gerstein's sunny, cartoon-style illustrations add to this version's upbeat mood, and the use of speech bubbles will help young listeners to distinguish between narration and dialogue. A good choice for reading aloud or encouraging creative dramatics."—Booklist