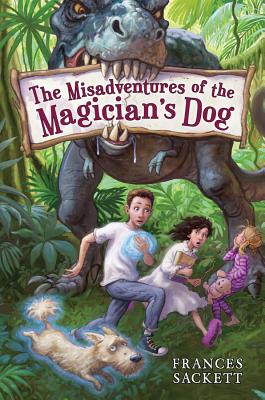 The Misadventures of the Magician's Dog (Hardcover)
Holiday House, 9780823428694, 192pp.
Publication Date: September 1, 2013
* Individual store prices may vary.
Description
Peter Lubinsky doesn't even like dogs and can't understand why he asked for one for his birthday. But it turns out that this pet, whom Peter calls The Dog, can talk and do magic--and he needs Peter's help. In return, The Dog promises to teach Peter conjuring and to help him bring his father home from the Middle East, where he is deployed with the air force. Soon Peter finds himself flying through the air on a mission to rescue The Dog's master. But as Peter's magical powers grow, he finds himself filled with dark anger. A bedroom full of dinosaur fossils, a waiter who was formerly a mouse, and an epic battle of magicians make for a thrilling read. This imaginative middle-grade fantasy is about the power of love and enchantment.
About the Author
Frances Sackett studied creative writing at Harvard and has an MFA from Mills College. For the past fifteen years she has worked as an editor and writing teacher. She lives in Los Angeles with her two children. This is her first novel. For years she thought about writing a story about a dog that used to belong to a magician, but, she writes, "I couldn't quite figure out who would adopt the dog and what would happen next. Then our country went to war, and I became a little obsessed with the idea of deployed service people. And that's when it clicked. I wanted to write a story that was fun and joyful and adventurous but that also peeled back some the complicated emotions this boy would feel about having his father gone."
or
Not Currently Available for Direct Purchase