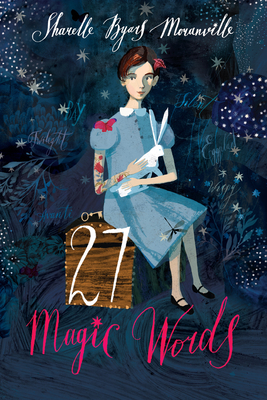 27 Magic Words (Hardcover)
Holiday House, 9780823436576, 208pp.
Publication Date: July 30, 2016
* Individual store prices may vary.
Description
An irrepressible ten-year-old must reconcile her fantasies with reality in this beautifully written novel about facing the future.

Although eleven-year-old Kobi's parents sailed into a storm at sea five years ago, she knows they are alive. If she says "Avanti!" she can see them. Now that her wealthy Parisian Grandmama is sending Kobi and her sister away to live with Uncle Wim in Iowa, she will need the magic words her mother left her more than ever. To fit in at her new American school , Kobi tells lies that soon catch up with her, and leans heavily on her magic. In a heart-wrenching climax, she must confront not only the untruths she has told others but the stories she has made herself believe. Only then will she be able to grieve for her parents and move on with her life.
About the Author
Sharelle Byars Moranville is the author of Over the River, which Booklist named a Top Ten Youth First Novels and called "beautifully written" in a starred review, The Hop which won the Nature Generation Green Earth Book Award and the Green Prize for Sustainable Literature and A Higher Geometry which was a Booklist Top 10 Romance for Youth and a Bank Street Best Book of the Year. When she isn't reading or writing, she is often gardening or taking photographs near her home in West Des Moines, Iowa.
Praise For 27 Magic Words…
* "...This character-driven novel does a remarkable job of allowing readers to see the world through Kobi's eyes, both as a five-year-old believing in her parents' magical abilities and as a 10-year-old surrounded by adults who are coping with their own heartbreaks and traumas. Secondary characters are portrayed equally deftly, and even minor characters come across as living, breathing individuals.... This well-honed middle grade title packs a considerable emotional punch and could be just the ticket for a tween dealing with loss. A highly recommended purchase." —School Library Journal, Starred Review

* "Ever since her mother wrote 27 commonplace but seemingly magical words on some Post-its, [Kobi] has used them both to make life go smoothly and, more importantly, to connect her to her missing parents....But is Kobi's magic real or just her increasingly ragged defense mechanism for fending off the grim reality that her beloved parents, lost at sea, will never be coming back? ... Distinctive, well-drawn characters drive the plot and provide their own magical contributions to Kobi's widening world. Both tragic and uplifting, this winsome tale perfectly depicts some of the many aspects of magic."—Kirkus Reviews, Starred Review