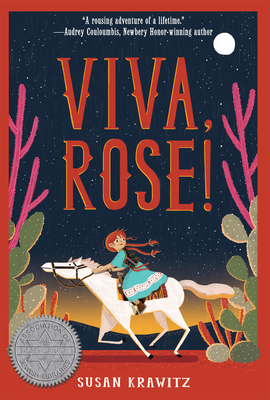 Viva, Rose! (Hardcover)
Holiday House, 9780823437566, 240pp.
Publication Date: April 12, 2017
* Individual store prices may vary.
Description
Thirteen-year-old Rose takes on the wild west, outlaws, and the strict rules of the early 1900s.

When Rose Solomon's brother, Abe, left El Paso, he told the family he was heading to Brooklyn. But Rose discovers the truth the day she picks up the newspaper at Pickens General Store and spies a group photograph captioned The Southwestern Scourge of 1915! There stands Abe alongside none other than Pancho Villa and his army!

Rose is furious about Abe's lie; fearful for his safety; and worried about her traditional parents who, despite their strict and observant ways, do not deserve to have an outlaw for a son. Rose knows the only way to set things right is to get Abe home, but her clandestine plan to contact him goes awry when she is kidnapped by Villa's revolutionaries and taken to his hideaway.
Deep in the desert, amidst a richly rendered assortment of freedom-seekers that includes an impassioned young reporter, two sharp-shooting sisters with a secret past, and Dorotea, Villa's tyrannical young charge, Rose sees no sign of Abe and has no hope of release. But as she learns to lie, hide, and ride like a bandit, Rose discovers the real meaning of freedom and what she's willing to risk to get hers back.

A Sydney Taylor Honor book
A National Jewish Book Award finalist
About the Author
Susan Krawitz is a freelance writer and editor. Viva, Rose! won the Sydney Taylor Manuscript Award for a middle grade novel. The story is partly based on her family's stories of a cousin who rode with Pancho Villa during the Mexican Revolution. She lives in New York.
Praise For Viva, Rose!…
"The tense atmosphere and exciting setting will ensnare readers' imaginations, while Rose's personal growth will strike a chord with those straddling the complex divide between child- and adulthood."—Booklist
 
"Readers will enjoy Rose's fiery personality and equally brash narration in this engaging historical adventure."—Publishers Weekly
 
"Krawitz has based her tale on family stories and infuses it with details of Villa's hideout and the lives of Jews in an atypical setting. Rose is a determined character who gains a more mature understanding of her family and faith, her fellow towns-people, and Villa through her adventure."—Kirkus Reviews