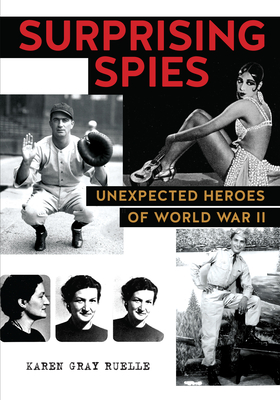 Surprising Spies
Unexpected Heroes of World War II
Hardcover

* Individual store prices may vary.
Other Editions of This Title:
Paperback (3/29/2022)
Description
Would you spy for your country? Discover the World War II spies who lived among the shadows and the ones who lived in the limelight--disguised in plain sight!

Josephine Baker. Virginia Hall. Roy Hawthorne. These are but a few of the daring spies who risked it all to deliver and protect crucial intel for the Allied powers. From housing refugees and resistance members while extracting secrets from diplomats to developing a groundbreaking, war-changing code and keeping it top secret for over twenty years, the actions of these legendary World War II spies are unbelievable but true.

This thoroughly researched collection of biographies profiles several courageous individuals who resisted the Axis Powers via espionage and heroism. Includes numerous photos and features such fascinating accounts like that of Moe Berg, a major-league baseball player and potential assassin; Noor Inayat Khan, a Sufi princess and wireless operator; and Juan Pujol Garcia, a storyteller and double agent. Also features sections on invisible ink, ciphers and codes, resistance fighters, and infamous missions such as Operation Mincemeat.

Back matter includes a time line, source notes, a bibliography, recommended reading, online resources, and an index.
Praise For Surprising Spies: Unexpected Heroes of World War II…
★ "Photographs and maps help to illuminate each individual, allowing readers to develop a connection to each of the spies. The profiles seem to be carefully selected and curated, ensuring a balanced gender representation. Many different cultural groups are represented, including Hispanics, African Americans, Indians, and Native Americans. The men and women have unique backgrounds, including a magician, a safecracker, a musician, and a baseball player. Each compelling entry details what happened to the spies after the war. . . . An excellent addition to any collection about World War II."—School Library Journal, Starred Review

"Ruelle provides interesting and sometimes suspenseful biographies of eight active, important, and often heroic spies who worked during World War II. . . . An engaging examination of the important although often unsung work of spies."—Kirkus Reviews

"Although middle-grade readers may know little about the war, the book delivers a good deal of information in concise sidebars as well as individual narratives that offer drama, varied settings, and a gradually broadening perspective. The many archival photos and the relatively inclusive selection of featured spies enhance the book's appeal, and Ruelle's storytelling is consistently engaging. A lively addition to the history shelves."—Booklist &

"Straightforward storytelling delineates the dangerous and innovative clandestine work of eight unexpected individuals. . . . A clear, age-appropriate introduction to spycraft and WWII history that may well pique interest in both topics."—Publishers Weekly
Holiday House, 9780823437573, 160pp.
Publication Date: November 17, 2020
About the Author
Karen Gray Ruelle is a former librarian turned full-time author and illustrator of children's books. Her collaborations with Deborah Durland DeSaix, which include Peter's War, have garnered much acclaim; The Grand Mosque of Paris was named an ALA Notable Book, and Hidden on the Mountain, a Sydney Taylor Notable Book, received a starred review from Kirkus Reviews. Her books also include the Harry & Emily easy reader series, as well as other picture books and nonfiction. Ruelle lives in New York City.