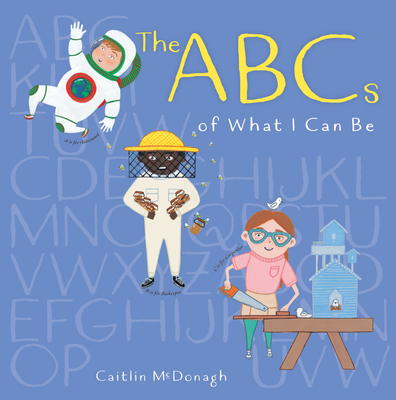 The ABCs of What I Can Be (Hardcover)
Holiday House, 9780823437825, 40pp.
Publication Date: December 24, 2018
* Individual store prices may vary.
Description
A fun, imaginative, and boldly illustrated book that gets kids thinking about life's possibilities.

A diverse group of children play-acts grown-up occupations, some familiar and others quite far-out. Dressing up in grown-up work clothes, the children try on occupations such as astronaut, artist, archaeologist, and athlete for A and ballerina, beekeeper, biochemist, and bus driver for B to zipper maker, Zumba instructor, and zen gardener for Z.

The book is imaginative and joyful and sends out wonderful messages about exploring possibilities while teaching the ABC's.
About the Author
A recent Magna Cum Laude graduate of The Fashion Institute of Technology, Caitlin McDonagh was a student of award-winning Holiday House author and illustrator Eric Velasquez, who has been her mentor and advocate.
Praise For The ABCs of What I Can Be…
"Diverse children act out 100 different careers, organized alphabetically from 'astronaut' to 'Zumba instructor' . . . Readers will love choosing their favorite."—Kirkus Reviews


"This alphabet of occupations and hobbies features a diverse cast of children, depicted in appealing panels, exploring jobs spanning from artist to zumba instructor. . . . Libraries and schools looking for distinct alphabet books, or ways to introduce various occupations will find this a pleasant addition."—School Library Journal


"Artist, doctor, firefighter, plumber, chef, police officer, soldier, or teacher might appear on many children's lists of potential adult jobs, but what about upholsterer, biochemist, zipper maker, mathematician, oil rigger, or yodeler? This charming occupational exploration ranges from the familiar to the fanciful (though all are actual jobs), suggesting many directions for children to consider. . . . The large variety of activities may provoke serious contemplation about future possibilities, while the funny situations on some pages keep the tone light." —Booklist