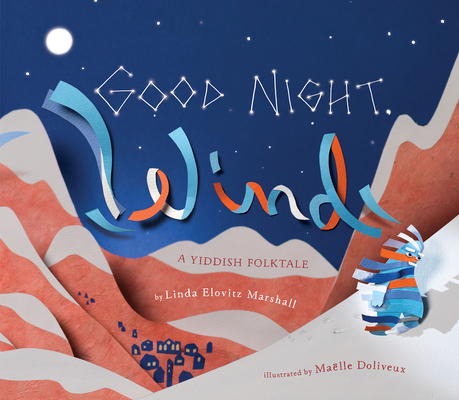 Good Night, Wind (Hardcover)
A Yiddish Folktale
Holiday House, 9780823437887, 32pp.
Publication Date: February 26, 2019
* Individual store prices may vary.
Description
When the exhausted winter wind throws a snowy tantrum, it finds comfort in the friendship of two young children in this lyrical retelling of a Yiddish folktale illustrated with stunning collage.

Winter Wind worked hard all season long
blowing away leaves,
preparing trees for coats of snow and ice.

Now, Wind is tired and needs a place to rest. But no one wants to shelter so cold and blustery a Wind--not the townspeople, not the country innkeeper, not even the gnarled tree who is worried about frozen roots.

Finally, Wind does what any of us do when we are overtired: Wind has a tantrum. And it is only with the help of two small children brave enough to weather the storm that Wind finally finds the perfect place to sleep.

Based on a Yiddish folktale, the gentle language of this seasonal story is coupled with intricate cut-paper collage dioramas tell this sweet tale about empathy and friendship. The visuals in this book are striking for their vibrancy, palette, and movement.

A perfect read for a cold, blustery day, or at bedtime with your own sleepy loved ones.
About the Author
Linda Elovitz Marshall is the author of many picture books for children, including the Talia and... series of Jewish holiday books including The Passover Lamb, which was a Sydney Taylor notable book.

Maëlle Doliveux is an award-winning artist and illustrator whose work has appeared in dozens of publications, including The New York Times, Newsweek, The Boston Globe, and Vulture. She is also the cofounder of Beehive Books, an independent comics publisher. She has won both gold and silver medals from the Society of Illustrators and has been a judge for the MoCCA Arts Festival Award of Excellence along with Joan Hilty and Rutu Modan. This is her first book.
Praise For Good Night, Wind: A Yiddish Folktale…
* "Inspired by a Yiddish story, author Marshall uses fresh language to reimagine this tale of the winter wind . . . While the story is wonderfully inviting in itself, illustrator Doliveux's images, created using dioramas constructed from cut-paper collage, then lit and photographed, are wondrous. Winter Wind is a swirling mass of paper strips in cool blues and whites with dark, expressive eyes. By contrast, the cozy rooms and houses are rendered in warm colors and steady lines to give viewers a sense of order and warmth. Both white and brown-skinned people are depicted. A sparkling story whose fresh words and deeply imagined, skillfully rendered illustrations give it a feel that is both contemporary and folkloric."—Kirkus Reviews, Starred Review


"Striking artwork fashioned from ribbons of crisply cut colored paper enlivens this retelling of a Yiddish folktale. . . . Marshall (Mommy, Baby, and Me) writes with the force of a gale . . . Spreads in autumn reds and winter blues by cut-paper artist Doliveux carry still more energy—gusts blow off Wind's bulky blue body as sailing ribbons and embossed white paper represents mounds of snow. Discovering that rage can mask other emotions is powerful knowledge, and readers will be drawn to the image of the two children taming a gigantic force."—Publishers Weekly


"Near the end of wintertime, the wind—personified in Doliveux's striking illustrations as a large blue body affixed with different-colored and -textured strips of paper, depending on its changeable mood—is tired. . . . The children find an out of the-way resting spot for Wind, and in doing so, make a friend for all seasons. . . . readers should appreciate the cleverness and problem-solving abilities of her young characters, not to mention their empathy."—The Horn Book Magazine