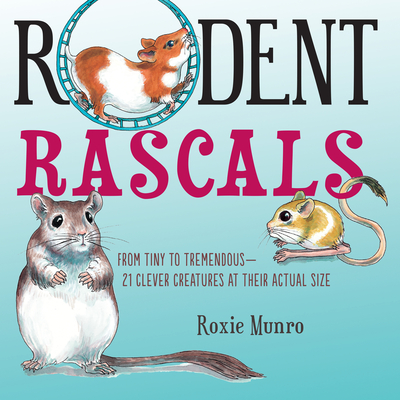 Rodent Rascals
Hardcover

* Individual store prices may vary.
Other Editions of This Title:
Paperback (3/24/2020)
Description
Meet the rodents of the world in this illustrated guide to 21 species of rascally creatures!

What is the smallest rodent in the world? What is the biggest? How long can rodents live? How do they find mates? Find out all this and more in this wonderfully detailed new book from award-winning author-illustrator Roxie Munro.

With bright, life-sized illustrations and simple text describing the life cycles, habitats, and ranges of these fascinating creatures, Rodent Rascals is packed with fun facts about these often overlooked or maligned creatures. 

From the pygmy jerboa to the capybara, there's a whole world of clever creatures to discover!

Backmatter includes expanded information on all the species featured, a glossary of important vocabulary introduced in the text, a list of further reading, and an index.

 
A Bank Street Best Children's Book of the Year
Praise For Rodent Rascals…
* "Munro's animals—particularly her impossibly cute guinea pig—strongly exude shaggy, button-eyed appeal. Her subjects may come across as eye candy, but they are drawn with naturalistic exactitude, and in her accompanying descriptive comments, she often relates certain visible features to distinctive habitats and behaviors. . . . 'Humans are lucky to have rodents,' Munro argues…and makes her case with equal warmth to hearts and minds."—Kirkus Reviews, Starred Review
 
* "Writing with warmth and enthusiasm, Munro celebrates the biodiversity of rodents. . . . Munro blends naturalism with a hint of personality for each rodent, accentuating the positive attributes of an underappreciated group of animals."—Publishers Weekly, Starred Review
 
"Munro's joyful ode to rodents is a refreshing take on these often maligned creatures. . . . The artwork, created with India ink and colored acrylic inks on paper, is a pleasure to pore over. Illustrations are drawn to scale and skillfully communicate the rodents' physical appearance and hint at their temperament, resulting in an inviting and accurate work. The back matter goes into greater depth for each subject, providing scientific names, average sizes, and more. Even the most resistant of readers will fall in love with these rascally rodents. A fine selection for animal collections."—School Library Journal
 
* "Each creature is beautifully illustrated in actual size, with soft brushstrokes providing excellent details of the rodents' fur and hair, nails, and teeth. . . . The crisp, clear text will make it easy for readers to follow along, with the names of each rodent presented in large colorful text and italicized words defined in a glossary. Further detailed informative paragraphs about each featured rodent follow the main illustrated pages, along with a glossary, resources, a list of related websites for readers to explore, and an index. A fun, unique, and informative addition to all children's nonfiction collections."—Booklist, Starred Review
Holiday House, 9780823438600, 40pp.
Publication Date: January 16, 2018
About the Author
Roxie Munro has written and illustrated more than 40 books for children, including Rodent Rascals, which received three starred reviews, and Market Maze. Munro speaks widely at educational conferences on the topic of learning and gamification. She is also the creator of several award-winning apps for children. She lives in New York, NY.