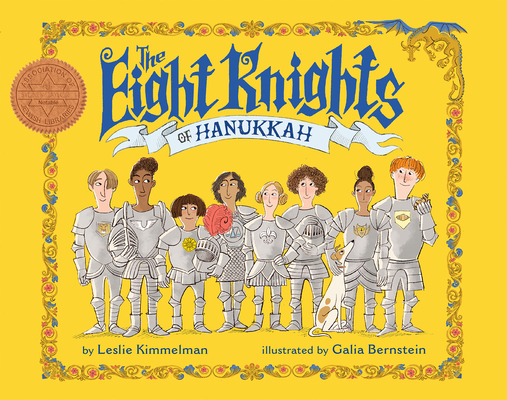 The Eight Knights of Hanukkah
Hardcover

* Individual store prices may vary.
Description
The whole kingdom has gathered to celebrate Hanukkah--but a dastardly dragon keeps interrupting the festivities. Can the Eight Knights of Hanukkah set things right?

A Sydney Taylor Notable Book

It's the last night of Hanukkah and everyone is doing their part for the big celebration, but a dragon called Dreadful has other ideas. He roams the countryside, interrupting the party preparations. Lady Sadie must call upon the Eight Knights of Hanukkah to perform deeds of awesome kindness and stupendous bravery and put an end to the dragon's shenanigans.

When Dreadful eats all the special donuts the baker made, Sir Lily helps the baker make more sufganiyot. Sir Alex makes a young lad a new dreidel after Dreadful scorched his original one. And on the Knights go--but when they finally catch up to Dreadful, a funny surprise awaits them!

Leslie Kimmelman crafts a humorous and touching story out of a bit of wordplay and a love for a holiday that truly shines. Galia Bernstein's artwork is full of appeal and is sure to satisfy fantasy fans.

Back matter includes a note on the traditions of Hanukkah and directions for playing the dreidel game.
Praise For The Eight Knights of Hanukkah…
"Colorful cartoon illustrations portray happy encounters between the knights and the ordinary folk, interspersed with hints to the dragon's whereabouts. . . . For those on a quest for a different take on a holiday tail—oops!—tale."—Kirkus Reviews

"Kimmelman and Bernstein's gentle spoof employs just enough amusing medieval jokes (Sir Gabriel dons an apron that reads 'Kisseth the cook' in Gothic type) to make the core idea fun to grasp: it takes good deeds of all shapes and sizes to make the world go 'round." —Publishers Weekly

"Engaging, comical illustrations along with illuminated lettering, wordplay, and a smattering of Old English expressions set the pitch perfect tone. The rollicking holiday adventure concludes with the much-anticipated Hanukkah merrymaking."—AJL News and Reviews

"A hu­morous adventure that features heroic cavaliers and a rascally dragon while drawing upon Hanukkah traditions. . . . Bernstein's illustrations of the mis­chievous Dreadful, the bold knights and gracious Lady Sadie are friendly and energetic, and design features such as a map of the kingdom will transport readers to the story's medieval setting. In an afterword, Kimmelman explores the history of Hanukkah and the impor­tance of performing mitzvoth—good deeds—throughout the year. It all adds up to a clever, thrilling journey that's lots of fun. "—BookPage

"Kimmelman's slyly humorous text ('"Worryeth not," said Sir Lily.') is complemented by Bernstein's cartoon art, which features minimalist backgrounds, medieval illuminated letters, and expressive facial features. . . . this will be welcomed by families and religious schools." —Booklist

"The faux-medieval silliness is complemented with old-timey illustrations and heavily adorned initial caps on a parchment-white background. Back matter briefly explains the traditions of Hanukkah."—The Horn Book
Holiday House, 9780823439584, 48pp.
Publication Date: September 15, 2020
About the Author
Leslie Kimmelman has long been associated with Sesame Workshop both as a writer and editor. She is the author of more than three dozen children's books, including The Little Red Hen and the Passover Matzah and Write On, Irving Berlin!, which were both Sydney Taylor Notable Books, and the Sydney Taylor Honor Book Everybody Says Shalom. She lives in the New York City area.

Galia Bernstein was born and raised in Israel. She worked as the art director of two Israeli children's magazines before moving to New York City to study illustration at the Parsons School of Design. Galia currently works as a freelance illustrator and is the author-illustrator of Leyla and I Am a Cat, which received three starred reviews. She lives in Brooklyn, New York.