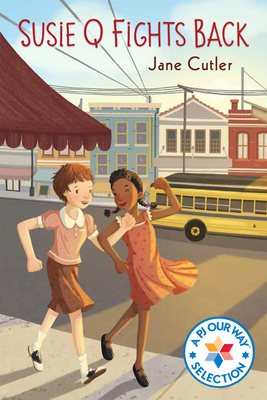 Susie Q Fights Back
Paperback

* Individual store prices may vary.
Other Editions of This Title:
Hardcover (3/14/2014)
Description
When ten-year-old Susan Marcus discovers a world of prejudice right in her own back yard she makes a small but courageous stand in this irresistibly appealing historical novel set in 1943.

You wouldn't even know there was a war on, thinks Susan Marcus as she surveys her new neighborhood in Clayton, Missouri. There are no air raid wardens, no blackout curtains. It's so different from her old home in New York City: no tall apartment buildings, no bustling city streets.

Susan can barely understand people, their accents are so thick, and of course eveyone in Clayton is a St. Louis Cardinals fan and sworn enemy of Susan's beloved New York Yankees.

Worst of all, for the first time in her life, ten-year-old Susan encounters prejudice -- against New Yorkers, Jews, blacks, and the Japanese. She must be circumspect about her friendship with Loretta (the daughter of the black janitor), for Jim Crow laws still exist in 1943 Missouri. Outraged, Susan decides to strike a blow against them. She's not going to break the rules exactly; she's just going to bend them.

A great book for highlighting the struggle for social justice and sparking family discussions about the history of racism and Jim Crow laws in America.

Published in hardcover as Susan Marcus Bends the Rules.

A PJ Our Way selection.
Praise For Susie Q Fights Back…
"The novel splendidly captures the place and time, from the heat and humidity (and lack of air conditioning), to childhood pastimes like roller skating, playing jacks, and drinking Kool Aid.... Although the author uses the terminology of the time to describe race...the story is a gentler read than Mildred Taylor's Roll of Thunder, Hear My Cry. Children will cheer for Susan's courage in defying the injustice in her world." —School Library Journal

"It's unusual to find a chapter book for younger readers that takes on the painful history of racial segregation and discrimination. By using Susan as the narrator, Cutler lets readers see life under Jim Crow through multiple perspectives....Rebelling against discrimination is only part of this appealing story, but it's the most memorable part. An enjoyable chapter book with great potential for discussion."—Booklist
Holiday House, 9780823439935, 112pp.
Publication Date: January 1, 2018
About the Author
Jane Cutler has written novels and picture books for children, including Spaceman, which was nominated for the Mark Twain Award and the William Allen White Children's Book Award, and The Cello of Mr. O, which won the Zena Sutherland Prize, the 2000 Paterson Prize for Books for Young People, and the New Mexico Land of Enchantment Book Award. She lives in San Francisco, California.
or
Not Currently Available for Direct Purchase