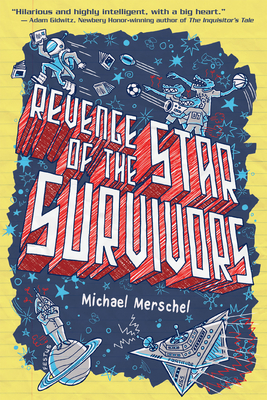 Revenge of the Star Survivors (Paperback)
Holiday House, 9780823440412, 320pp.
Publication Date: October 16, 2018
Other Editions of This Title:
Hardcover (3/30/2017)
* Individual store prices may vary.
Description
Middle school meets the Dark Side in this grimly hilarious survival story of a sci-fi-obsessed eighth grader.

Clark Sherman's situation is desperate.

He's just crash-landed on an inhospitable planet--also known as Festus Middle School--where the natives don't take kindly to newcomers . . . particularly ones who love sci-fi and memorizing episodes of the hit TV show Star Survivors.

Hostile natives include violent bullies, uncaring teachers, and the fiendishly evil Principal Denton, and Clark realizes he'll be lucky enough to survive eighth grade, let alone thrive. But then, three kindred life forms make themselves known . . . and suddenly, Clark finds he not only has the will to survive, but the strength to fight back.

Sharp, painfully funny, and deeply moving, Revenge of the Star Survivors is a story for sci-fi fans-- and for anyone who's ever felt alone in this world. Michael Merschel's witty writing, by turns hilarious and heartbreaking, brings Clark's inner strength into the light.

Winner of the Texas Institute of Letters Jean Flynn Award for Best Children's Book
About the Author
Michael Merschel is an editor at The Dallas Morning News. He's also written plays, contributed to A Prairie Home Companion and composed an out-of-office reply that appeared in The New York Times and on NPR. Although he was featured on Humans of New York, he lives in Texas with his wife and three kids, who tell him he is not all that funny, usually.
Praise For Revenge of the Star Survivors…
"In this zany, clever story, an inveterate fanboy must blend into his new harsh surroundings, otherwise known as Festus Middle School, after a midyear move takes him out of his comfortable old life. Geeks, nerds, sci fi buffs, and likely any social outsider will find an amusing and/or poignant point of reference here, as Clark looks through a sci-fi lens at his normal life in his new school."—The Bulletin of the Center for Children's Books
 
"the real heart of the story is in its complex characters, tongue-in cheek tone, and emotional honesty."—Publishers Weekly
 
"the overall result is a fun twist on the theme of kids who take on the power structure and prevail. A promising first novel"—Booklist
 
"readers will find themselves rooting for Clark, Les, and Ricki."—Kirkus Reviews
 
"Quick pacing and wry wit give this title appeal beyond the sci-fi universe."—School Library Journal