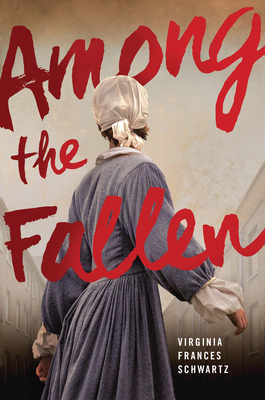 Among the Fallen
Hardcover

* Individual store prices may vary.
Other Editions of This Title:
Paperback (1/25/2022)
Description
Imprisoned for crimes she didn't commit, sixteen-year-old Orpha accepts an unusual invitation to live in a Victorian home for fallen women-- and finds new hope.

Though haunted by nightmarish flashbacks and withering in the miserable conditions of Tothill prison, an infamous Victorian workhouse, Orpha perseveres, doing what she can to befriend and protect the other girls imprisoned alongside her. She doesn't speak about what happened-- no one would listen. No one would believe her.

But then a mysterious letter arrives, offering her a place at Urania cottage. This experimental home aims to rehabilitate so-called fallen women-- many of them victims of sexual abuse, suffering not only the trauma of their experiences, but the blame and loss of reputation and livelihood.

It sounds too good to be true-- but with nowhere else to go, Orpha decides to take her chance. Soon she discovers her unknown savior is none other than Charles Dickens, whose writing deals extensively with the plight of the lower class, and whose friendship and guidance offers Orpha a new way to express herself.

With the support of the other women of Urania and the promise of a real future, Orpha will have to confront the darkest parts of her past-- and let go of her secrets.

This atmospheric historical novel, full of heartbreakingly real characters whose lives are all too believable, celebrates the strength and resilience of young women throughout history. Virginia Frances' Schwartz's powerful prose, structured to echo Dickens' serialized style, illuminates an era of startling inequality and extreme poverty. Fans of Laurie Halse Anderson's Fever 1793, Margaret Atwood's Alias Grace, and Katherine Paterson's Lyddie will enjoy this riveting title.

Named to the Amelia Bloomer book List
A Notable Social Studies Trade Book for Young People
Nominated for the Geoffrey Bilson Award for Historical Fiction
Praise For Among the Fallen…
"Any enthusiasts of the Victorian era will be delighted by the attention to historical detail in this novel. . . .  In addition, the use of Victorian slang and the skillful use of figurative language provide great authenticity to the way in which Orpha and the other characters interact with one another. Despite the seriousness of the topics of sexual abuse, poverty and prostitution featured in this story, the overall message is one of hope and transformation."—Canadian Children's Book News

"[A] sophisticated, compelling and troubling work that will appeal to older teens, especially girls, and to adults who appreciate historical novels. . . .  Thanks to her extensive research and skilled storytelling techniques, Virginia Frances Schwartz has depicted the plight of the Victorian poor with gritty realism. . . . older teens and adults will find it gripping."—Canadian Review of Materials

"Orpha's narration is initially cool and detached as she observes the prison's routines and her fellow inmates' roles with calm resignation, but flashbacks to her sexual abuse by her uncle are panicked and visceral, belying the trauma that lies underneath her composure. . . . Like many Dickensian tales, this gives an unflinching look at the poor and destitute of the Victorian era but also paints a picture of hope in charity and compassion. An author's note gives more historical information, and a glossary of period slang is included, as is a pointer to a source." —The Bulletin of the Center for Children's Books

"[Orpha's] struggle, colorful period detail, and the triumph of women so badly treated make for a fascinating read for those interested in women's history."—Booklist

"Written in 20 chapters to mirror the installments in which Dickens released his novels, this atmospheric story is imbued with the sights, sounds, and smells (or more accurately, odors!) of 19th-century London's rookeries, or slums. Like Dickens, author Schwartz (Crossing to Freedom, 2013, etc.) evokes the moral and political forces of the time; readers, particularly Margaret Atwood fans, will find parallels to the present. This Dickensian #MeToo novel calls out the lingering need for women's rights."—Kirkus Reviews
Holiday House, 9780823441020, 304pp.
Publication Date: October 8, 2019
About the Author
Virginia Frances Schwartz grew up in rural Ontario, Canada, but now lives in Queens, New York, where she taught writing in the public schools before devoting her career to her own writing. She is best known for her novels for young adults which have been ALA Best Books for YAs, and winners of multiple Canadian awards including the Geoffrey Bilson Award for Historical Fiction, the Ontario Silver Birch Fiction Award, the Manitoba Young Readers' Choice Award, and British Columbia Red Cedar Award. Her work includes Crossing to Freedom and If I Just Had Two Wings. She teaches a creative writing course at UCLA Online.
or
Not Currently Available for Direct Purchase