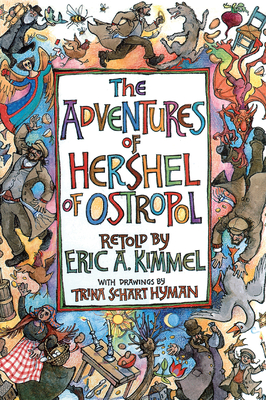 The Adventures of Hershel of Ostropol (Paperback)
Holiday House, 9780823442447, 64pp.
Publication Date: January 8, 2019
Other Editions of This Title:
Paperback (2/1/1998)
Hardcover (10/1/1995)
* Individual store prices may vary.
Description
Hershel of Ostropol can out-wit anyone! This funny collection of stories follows the celebrated Jewish folk hero as he gulls a stingy innkeeper, fierce bandits and even his own father.
Quick-thinking, clever, and funny, the legendary Hershel of Ostropol is one of folk-lore's greatest tricksters.

Author Eric A. Kimmel collected these stories growing up in Brooklyn, New York as well as from anthologies of Jewish folklore and oral histories.

A perfect gift for Hanukah, Bar and Bat Mitzvahs and even graduations!

Kimmel writes in his forward, "These stories reflect the values and cultural traditions of the Jewish communities of Eastern Europe. However, one does not have to be Jewish to enjoy them. Hershel, like Coyote, Anansi, B'rer Rabbit, and Tyll Eulenspiegel, belongs to all of us."

Caldecott-medalist Trina Schart Hyman's beautifully detailed illustrations introduce each story and decorate the cover.

Kimmel and Schart Hyman also collaborated on the classic Caldecott Honor book Hershel and the Hanukkah Goblins.
About the Author
Eric A. Kimmel, known for his retellings of Jewish folktales, has published more than fifty children's books, many of which have won state awards and appeared on school and library recommended lists. His many prestigious awards include the National Jewish Book Award and the Sydney Taylor Lifetime Achievement Award.
 
Trina Schart Hyman was a renowned illustrator best known for her fairy tale, medieval, and Arthurian art. She was awarded one Caldecott Medal, three Caldecott Honors, and the Golden Kite Award. Born in Philadelphia, she lived most of her life in New Hampshire.
Praise For The Adventures of Hershel of Ostropol…
"Ten superbly retold Hershel of Ostropol tales, many of which are unavailable in popular collections...ideal for reading aloud."—School Library Journal
 
"10 funny Yiddish folktales about the Jewish trickster Hershel are rooted in the shtetl village community of the nineteenth-century Ukraine. Kimmel says that Hershel was a real character, a wandering beggar, who endeared himself to the common folk by making the pompous and arrogant look foolish….With their wry idiom, these are stories for telling across generations. Kimmel points out that–like Coyote, Anansi, and B'rer Rabbit–this trickster belongs to all of us. As in the Caldecott Honor Book, Hershel and the Hanukkah Goblins, Trina Schart Hyman's wild, beautifully detailed drawings capture Hershel's farcical interchange with the village creatures and characters."—Booklist  


"Kimmel (Rimonah of the Flashing Sword, p. 386, etc.) makes each of Hershel's escapades an ingenious delight, short enough to hold the attention of young children but clever enough for their older siblings. Hyman's wonderful black-and-white pictures leave readers wanting more. Kimmel's retelling aptly captures the ethnic origins of the collection."—Kirkus Reviews