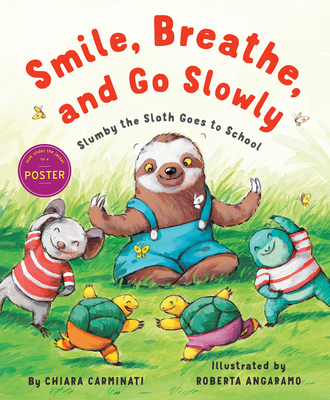 Smile, Breathe, and Go Slowly
Slumby the Sloth Goes to School
Hardcover

* Individual store prices may vary.
Description
It's Slumby the sloth's first day of school in the rainforest. Can he keep up with everyone and still be himself? An adorable Slumby poster is included!

Everyone loves Slumby; he's kind, he's most always happy, and butterflies follow him everywhere. Slumby knows that the other students at school like him, except that he moves...so...very...slowly.

When he is too slow to compete in the turtle race, or play boa rope, or play armadillo ball, what is he to do? It can be hard to be left out. Then again, when one of his classmates is in danger, Slumby might be the only one who can help.

Acclaimed Italian duo author Chiara Carminati and illustrator Roberta Angaramo work together to create a sweet, heartfelt story about how people have different strengths.

Backing the book jacket is a poster of Slumby.
Praise For Smile, Breathe, and Go Slowly: Slumby the Sloth Goes to School…
"The Italian collaborators offer a whimsical tale starring a sloth who savors his family's mellow lifestyle, which involves perching on a tree branch, surrounded by butterflies, and breathing deeply— and very slowly. . . . Rendered in crayons and acrylic paints, Angaramo's similarly understated and droll illustrations put a diverting spin on Slumby and his friends." —Publishers Weekly
 
"The vibrant colors of the anthropomorphic characters and their outfits pop against the gentle watercolor backgrounds. Slumby the sloth is adorable and expressive."—School Library Journal
Holiday House, 9780823442461, 40pp.
Publication Date: September 15, 2020
About the Author
Chiara Carminati has written over 25 books for children from her home in Italy, Smile, Breathe, and Go Slowly being her first book with Holiday House. Chiara has dedicated much of her life to encouraging children to read and has won several awards including the Terre del Magnifio and the Premio Andersen--Il mondo dell'infanzia award.

Roberta Angaramo has illustrated more than thirty titles with publishers all over the world, including A Perfect Home for a Family and Dog in Boots. She lives in Italy in a small rural village. Visit her on the web at www.robertaangaramo.com.