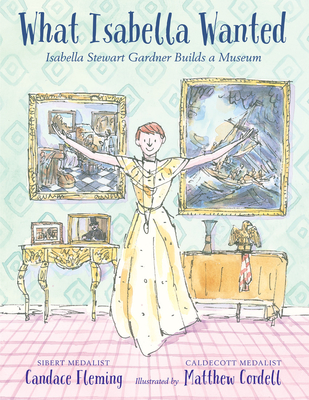 What Isabella Wanted
Isabella Stewart Gardner Builds a Museum
Hardcover

* Individual store prices may vary.
Description
From multiple award-winning author Candace Fleming and Caldecott Medalist Matthew Cordell comes the true story of a woman who always got what she wanted: Isabella Stewart Gardner.

For years, the indomitable Isabella Stewart Gardner searched the world for magnificent artwork and filled her home with a truly unique collection, with the aim of turning it into a museum, which she established in 1903.

Isabella always did things her own way. One day she'd wear baseball gear to the symphony, the next, she'd be seen strolling down the street with zoo lions. It was no surprised that she was very particular about how she arranged her exhibits. They were not organized historically, stylistically, or by artist. Instead, they were arranged based on the connections Isabella felt toward the art, a connection she hoped to encourage in her visitors.

For years, her museum delighted generations of Bostonians and visitors with the collections arranged exactly as she wanted. But in 1990, a spectacular burglary occurred when two thieves disguised as police officers stole thirteen paintings, valued at $500 million, including a Rembrandt and a Vermeer. They have yet to be recovered, though a $10 million reward is still being offered for their safe return.

Author Candace Fleming perfectly captures Isabella's inimitable personality and drive, accompanied by exuberant illustrations by Matthew Cordell.

A Junior Library Guild Gold Standard Selection
Praise For What Isabella Wanted: Isabella Stewart Gardner Builds a Museum…
★ "Author and illustrator have a field day here celebrating the audacious acquisitiveness of a rich lady whose 'great art [was] displayed next to bric-a-brac with no distinction between them.' Cordell winkingly decks Isabella out in the iconic black dress captured in John Singer Sargent's portrait. . . ."—The Bulletin of the Center for Children's Books, Starred Review

★ "In What Isabella Wanted, Sibert Medalist Candace Fleming . . . boldly succeeds in creating another winning nonfiction picture book, and Caldecott Medalist Matthew Cordell . . . handsomely illustrates this paean to one woman's idiosyncratic passions."—Shelf Awareness, Starred Review

"Fleming and Cordell keep [Isabella Stewart Gardner's] independent spirit front and center as they proceed to describe her passion for collecting art, arranging it just so in her Boston mansion, and opening the doors of her home turned museum to the public."—Booklist

"Throughout, author and illustrator find just those details about Gardner . . . and the famous theft . . . that will engage readers who might have otherwise found the subject stuffy. The text is clipped and clear; the line and water- color illustrations have a raffish edge that suits the boho Isabella."—The Horn Book

"[Isabella Stewart Gardner's] unconventional nature and love of art are engagingly portrayed, and the unsolved theft of her art reads as a mystery worthy of her scandalous legacy. An inviting portrait of a privileged and unconventional woman who shared herself and her art collection with the masses."—Kirkus Reviews

"Sprightly text conveys both Isabella's joie de vivre and whim of iron with kid-pleasing energy. Pen and ink and watercolor illustrations portray the exuberant flurry of activity around Isabella as well as the comically startled reactions of proper Bostonians to her behavior. . . .Between the flamboyant subject, the story of what she chose do with her bottomless wealth, and the unsolved theft, this book will leave young readers inspired to learn more."—School Library Connection

"Cordell's characteristic sketch lines, filled with mostly subdued colors, work to bring a historic feel to the story."—School Library Journal

"In a picture book that's as much about a place as a figure, this story of treasure gained and lost offers a fascinating look at one person's whims made reality."—Publishers Weekly
Neal Porter Books, 9780823442638, 40pp.
Publication Date: September 7, 2021
About the Author
Candace Fleming is the author of more than thirty distinguished books for children including Honeybee: The Busy Life of Apis Mellifera, winner of the Sibert Medal for most distinguished informational book, and Cubs in the Tub: The True Story of the Bronx Zoo's First Woman Zookeeper. Her book The Rise and Fall of Charles Lindbergh received the YALSA Award for Excellence in Nonfiction. She lives in Chicago.

Matthew Cordell is the Caldecott Medal-winning author and illustrator of Wolf in the Snow and Hello Neighbor!: The Kind and Caring World of Mister Rogers, and the illustrator of numerous highly acclaimed children's books including Philip C. Stead's books The Only Fish in the Sea and Special Delivery, which was a Washington Post Best Book. He wrote and illustrated Another Brother, Wish, and Hello! Hello!, a New York Times Notable Children's Book. Matthew lives near Chicago with his wife, author Julie Halpern, and their two children.