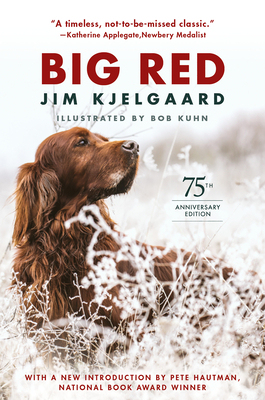 Big Red (75th Anniversary Edition)
Hardcover

* Individual store prices may vary.
Description
A devoted, courageous dog always stands by the boy who loves him in this genuine classic, in print for 75 years.

"A timeless, not-to-be-missed classic." --Katherine Applegate, Newbery Award winning author of The One and Only Ivan

Before Old Yeller or Where the Red Fern Grows, there was Big Red, the classic boy-and-dog story of adventure and friendship in the wild mountains of Pennsylvania.

Danny knows at a glance that Red, the big Irish setter, is the dog he has always dreamed of. But Red is a champion, and Danny is only a trapper's son who lives in a cabin on the mountain. Still, their bond is undeniable. Red is fast and strong, smart and noble, and incredibly loyal--when Danny twists his ankle and can't get home, Red stays by him all night, keeping a wildcat at bay.

Soon Danny and Red are meeting nature on their own terms, enduring a blizzard and even facing down a wolverine. But can Danny and Red take on the enemy that threatens everyone on the mountain--the savage bear they call Old Majesty?

This special hardcover anniversary edition has a printed case featuring the original artwork from the 1945 first edition, and includes an interview with the author, Jim Kjelgaard. The original woodcut endpapers are reproduced in the back of the book. A biography of famed wildlife illustrator Bob Kuhn, whose black-and-white artwork brought Big Red to life, is also included, as well as an appreciation by National Book Award winner Pete Hautman.

Beloved by readers for seventy-five years, this classic adventure tale is beautifully presented for a new generation of readers.
Praise For Big Red (75th Anniversary Edition)…
"Clear-eyed and unsentimental, this is a story told with heart, honesty, and understanding. It sits on my bookshelf alongside The Incredible Journey, The Black Stallion, The Yearling, and The Call of the Wild." —Andrew Clements, author of Frindle
 
"There are a million stories about boys and their dogs, but I doubt any others have the depth and heart of Big Red.  I couldn't put it down." —Dan Gutman, author of the My Weird School series
 
"Action, adventure and the love of a loyal dog. Such stories never get old. I love it!" —Barbara O'Connor, author of How to Steal a Dog
 
"Big Red embodies everything I loved about animal stories and adventure tales when I was a kid. A noble dog, a resourceful kid, life in the wilderness, and the exhilaration of being transported to another era." —Ann Martin, author of The Baby-Sitters Club series
 
"Powerful storytelling, vivid writing, and a good dog make for a timeless classic. I'm delighted to see this beautiful new edition being made available to today's readers." —Pete Hautman, winner of the National Book Award
 
"Sure-fire combination of boy and dog. When they meet, it is love at first sight, and so it will be for all who read the story."—Library Journal

"A moving and exciting story of a boy's love for a dog. The feeling of the woods and the outdoors comes through with complete reality."—Chicago Sun-Times

"(A) tale which paints the stern life of the wilderness in strong, clear strokes."—New York Times

"A really good dog story written with power and discernment. Anyone who loves dogs...will be enthusiastic about Big Red."—Elementary English

"It is obviously based upon observation and experience. The background is vivid, the human and animal relationships clear cut and convincing."—Saturday Review

"No one can write a better animal tale than Jim Kjelgaard"—May Hill Arbuthnot
Holiday House, 9780823442652, 272pp.
Publication Date: January 21, 2020
About the Author
Born in 1910, Jim Kjelgaard grew up in the Black Forest region of Pennsylvania, which became the setting for many of his books (he called it "the Wintapi region"), including Big Red. In the 1940s and 50s he authored more than 40 books for middle grade readers, making him one of the most influential children's authors of the era. He died in 1959.