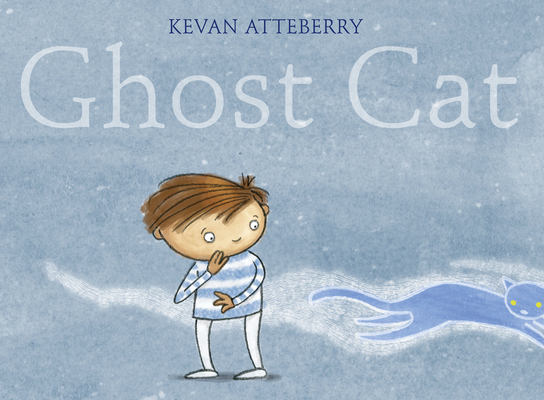 Ghost Cat
Hardcover

* Individual store prices may vary.
Description
There is a ghost in my house. I've only seen it out of the corner of my eye, but I think it is a cat, says a little boy in this comforting tale of love and loss.

There's something oddly familiar about this ghost cat--it does lots of things that remind the boy of the cat he used to have. The boy's not sure why the ghost cat never stays for more than a few moments, or why the ghost cat has visited him in the first place. He follows the ghost cat all over his house, until finally it leads him to something new and wonderful.

Bestselling author/illustrator Kevan Atteberry's artwork and story strike a perfect balance of evocative and haunting, as well as warm and hugely comforting to anyone struggling to cope with a loss.

With a few carefully chosen words and simple, expressive illustrations, Ghost Cat captures both the poignancy of losing a pet and the importance of moving on without erasing or forgetting what came before.

Winner of the Crystal Kite Award, Western Division
A Bank Street Best Book of the Year
Washington State Book Award Finalist
Praise For Ghost Cat…
* "Digital illustrations in vignettes, single and double spreads offer mainly golden backgrounds with the pale blue cat surrounded by a misty white aura and the young tan-skinned child looking a bit bewildered as he attempts to catch glimpses of his lost pet. . . . Though the youngster misses his pet, the story is not sad and could be helpful for parents discussing the loss of a pet with a child."—Booklist, Starred Review

"Losing a pet is always difficult; finding a new one isn't the solution for everyone, but in this case, it's a decidedly happy development."—Kirkus Reviews 

"The drawings are reassuring and cozy and the ghost cat is never spooky, instead depicted as a hopeful memory of the boy's missing pet, up to its old antics once again. This story gives parents and caregivers an excellent framework to discuss loss and grief with young children." —School Library Journal


"In a comforting story of memory, longing, and hope, a boy is convinced that his home is being occupied by a ghost. . . . The heart, it seems, has room for everyone we've ever loved."—Publishers Weekly

"Atteberry keeps the spreads unfussy—the focus is always on the boy and the cat—in this tender and restrained story . . . Even the palette is spare: the cool blues of both the boy's shirt and his cat (outlined in white) stand out atop an orangey rust color that dominates most illustrations. There is subtle humor in the creature's ability, despite being a ghost, to knock items off furniture, as well as a spread showing the ghost cat taunting a petrified fish in a tank."—The Horn Book
 
"On every page, Atteberry poignantly recognizes a child's deep sense of loss. The boy has toys, books, music, a comical pet fish, yet Atteberry never shows more than wide-open eyes and a little nubby nose on his face, seemingly suggesting dampened reactions: the child still mourns. The first smile appears only in a photo from the past--and doesn't return until book's end, when the opening 'There is a ghost in my house' gets revised to 'There is a ghost in our house.' A beloved pet never truly disappears, but joy with a new pet is possible, too."—Shelf Awareness

Neal Porter Books, 9780823442836, 32pp.
Publication Date: June 11, 2019
About the Author
Kevan Atteberry is a commercial illustrator who has written and/or illustrated several books for children, including Puddles!!!, Bunnies!!!, Tickle Monster, and Boogie Monster. Many of his books have been bestsellers, but one of his biggest claims to fame is that he created Clippy, the paperclip helper in Microsoft Office. Kevan lives in the Seattle area. Visit him on the web at www.kevanatteberry.com!