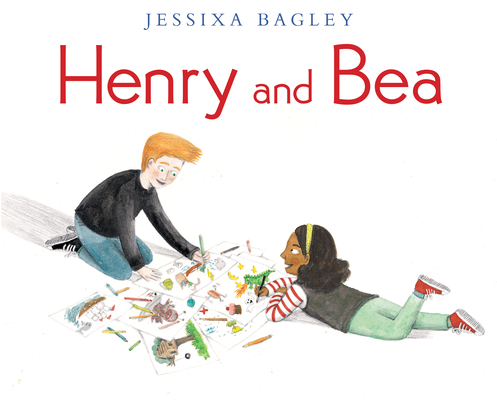 Henry and Bea (Hardcover)
Neal Porter Books, 9780823442843, 32pp.
Publication Date: October 29, 2019
* Individual store prices may vary.
Description
Henry and Bea are inseparable, but one day Henry suddenly stops talking to his best friend. Bea knows there's something Henry's not telling her, but what could it be?

Henry and Bea have always been inseparable...until one day Henry suddenly stops talking to Bea. He won't chat with her in class, and he won't sit with her at lunch. Bea can tell something's going on, and she's determined to find out what it is.

Then their teacher announces that the class is taking a field trip to a farm, and Bea hopes that this might be her chance to reconnect with Henry. When Henry finds an old cat collar at the farm and starts to cry, he finally reveals his secret to Bea: his cat Buddy died last week.

And even though it's hard for them both, Bea knows that she'll be there for Henry, as his best friend, no matter what.
From award-winning author/illustrator Jessixa Bagley comes a realistic and ultimately uplifting portrayal of the challenges of childhood friendship.
About the Author
Jessixa Bagley is an illustrator and comics artist. Her previous books include Boats for Papa, which received four starred reviews and a Golden Kite Award, Before I Leave, Laundry Day, which received an Ezra Jack Keats Award Honor, and Vincent Comes Home, which she wrote and illustrated with her husband Aaron. Her editorial work has appeared in The Stranger, The Chicago Reader, Nickelodeon Magazine, and The Seattle Weekly, among other publications. She lives in Seattle, Washington.
Praise For Henry and Bea…
★ "Bagley (Vincent Comes Home) once again conveys her deep understanding of the ways children process loss and her deep respect for their capacity to regain resilience. . . . Bagley's direct slice-of-life watercolors and text anchor her characters in the world, offering reassurance and affirmation to the story and to readers."—Publishers Weekly, Starred Review

"A gentle story with a lesson about what true friends are made of." —School Library Journal

"Bagley's artwork creates an emotionally resonant experience, with the use of white space, perspective, and the expanse of the double-page spread to communicate emotional closeness, distance, and isolation. Readers will be invested in this simple, elegantly told tale and will not be disappointed at its conclusion. . . . An excellent choice for themes of friendship and trust."—Kirkus Reviews

"A welcome addition to the shelf of books about grief; believable and affirming in its acknowledgment that even the closest friendships go through ups and downs—and of how to 'bea' a good friend."—The Horn Book

"Bagley sensitively demonstrates to her child audience concrete ways of being a good friend."—Booklist