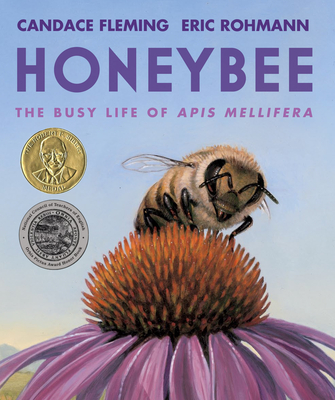 Honeybee (Hardcover)
The Busy Life of Apis Mellifera
Neal Porter Books, 9780823442850, 40pp.
Publication Date: February 4, 2020
* Individual store prices may vary.
Description
Get up close and personal with Apis, one honeybee, as she embarks on her journey through life, complete with exquisitely detailed illustrations.

Beginning at birth, the honeybee emerges through the wax cap of her cell and is driven to protect and take care of her hive. She cleans the nursery and feeds the larvae and the queen. But is she strong enough to fly? Not yet!

She builds wax comb to store honey, and transfers pollen from other bees into the storage. She defends the hive from invaders. Apis accomplishes all of this before beginning her life outdoors as an adventurer, seeking nectar to bring back to her hive.

Candace Fleming and Eric Rohmann describe the life cycle of the hard-working honeybee in this poetically written, thoroughly researched picture book, similar in form and concept to the Sibert and Orbis Pictus award book Giant Squid, complete with stunning gatefold and an essay on the plight of honeybees.

A Junior Library Guild Selection!
About the Author
Candace Fleming is the author of more than twenty distinguished books for children including The Family Romanov: Murder, Rebellion, and the Fall of Imperial Russia, winner of the Boston Globe-Horn Book Award for Nonfiction, the NCTE Orbus Pictus Award, and a Sibert Honor, among other awards.

Eric Rohmann is the award-winning author and/or illustrator of many beloved books for children. He received a Caldecott Honor for Time Flies and a Caldecott medal for My Friend Rabbit.

Candace and Eric's other collaborations include Strongheart: Wonder Dog of the Silver Screen as well as the popular "Bulldozer" books. They live in Chicago, Illinois.
Praise For Honeybee: The Busy Life of Apis Mellifera…
"a fascinating up-close view of the stages of a honeybee's life. . . . The drama and suspense are positively riveting."—The New York Times

★ "the art and text together convey a holistic view of environment and organism, with excellent pacing through the complete bee life cycle." —The Horn Book, Starred Review

"Candace Fleming details the fantastic industriousness of Apis mellifera in 'Honeybee', a picture book illustrated by Eric Rohmann with such intensity and accuracy that the squeamish reader may want to look on from a distance while someone else reads aloud."—The Wall Street Journal

★ "Oversized trim and a text artfully attuned to reading aloud work in harness together to rivet listeners as they follow Apis mellifera, nicknamed Apis throughout . . . Rohmann's much larger than life oil paintings of so eventful a thirty-five-day life leave the audience momentarily bereft at the end of their intense involvement with personalized, but not anthropomorphized, Apis."—The Bulletin of the Center for Children's Books, Starred Review

★ "Glorious illustrations and engaging text combine . . . The vivid oil paint illustrations include minute details and, at times, seem indistinguishable from photographs. The pictures align perfectly with the text, showing the honeybee hard at work at various tasks. . . .  this offering will captivate audiences.—Booklist, Starred Review

★ "This book is nonfiction at its best—a combination of beautifully crafted language and astonishing close-up illustrations. Fleming displays admiration for honeybees and conveys enormous respect for their work."—School Library Journal, Starred Review


★ "As they did in Giant Squid (2016), Fleming and Rohmann give readers a deep dive into the biology of a creature so alien from humans it's hard to imagine we all live on the same planet. . . . Fleming describes in meticulous detail many of the myriad roles a worker honeybee plays in the colony . . . Rohmann rises to the challenge of a story mostly set in dark, confined quarters and a limited palette of black, brown, and honey yellow with stunning views of Apis and her sisters, each tiny hair and segment lovingly delineated. . . . Like its subject, a wonder to behold. —Kirkus Reviews, Starred Review

★  "The brief but complex life of a Apis Mellifera—a worker honeybee—is explored with depth in this richly detailed picture book. . . . Fleming renders her humble life a mesmerizing wonder. Rohmann's realistic oil-on-paper illustrations artfully capture close-up details such as the glisten of transparent wings and the fine hairs covering a bee's body."—Publishers Weekly, Starred Review


★ "This dazzling picture book includes an essay and additional facts in the back matter, culminating in a phenomenal portrait of a tiny but indispensable component of nature--truly a delightful learning experience."—Shelf Awareness, Starred Review
 
 
"This is the bee book we've all been waiting for. We just hadn't met it yet."—A Fuse #8 Production