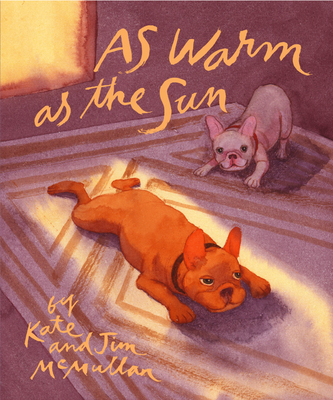 As Warm As the Sun (Hardcover)
Neal Porter Books, 9780823443277, 32pp.
Publication Date: August 13, 2019
* Individual store prices may vary.
Description
French bulldogs Toby and Pinkie learn to live together and form a heartwarming friendship.

Toby loves basking in the morning sun, snuggling in a lap in the afternoon, and toasting his tummy by the fireside at night, but somehow his warm spots never last. What Toby wants more than anything is to find something as warm as the sun that never fades or fizzles.

Then one day, Pinkie comes along, and she starts hogging all of Toby's favorite places. Toby feels alone and forgotten, and slinks away. . . but Pinkie follows him, determined to prove that she is the something as warm as the sun Toby has been looking for all along.

From the acclaimed duo of Kate and Jim McMullan, creators of I Stink! and I'm Dirty!, comes this story about two unforgettable French bulldogs--the perfect story for parents bringing home a new sibling.
About the Author
Kate McMullan is the author of the extremely successful titles I Stink!, I'm Dirty!, and others, which she collaborated on with her husband, Jim McMullan, as well as the beloved If You Were My Bunny. She and Jim live in New York City.

Jim McMullan is the artist behind Lincoln Center Theatre's posters, including this year's production of My Fair Lady. He has also illustrated many successful children's books. On many of his titles he collaborates with his wife Kate McMullan, including the bestselling I Stink! and I'm Dirty! They live in New York City.
Praise For As Warm As the Sun…
* "The watercolor illustrations create a warm and cozy familial feel and Toby's body language and facial expressions allow readers to empathize with him as he moves through a range of emotions. A heartwarming picture book of familial love and security. A great selection for dog lovers and new ­siblings everywhere."—School Library Journal, Starred Review

"Velvety, radiant watercolors, a mix of spreads and vignettes, immerse readers in the floor-adjacent landscape of a small dog's world; the illustrator's signature gift for evoking character with sculptural volume and density seems tailor-made for the chiseled, chunky protagonists. And while Toby's sense of uncertainty and indignity feels authentically portrayed . . . readers will sense that there is hope: even when he retreats to the basement and life is literally at its darkest, there are always hints of light."—Publishers Weekly