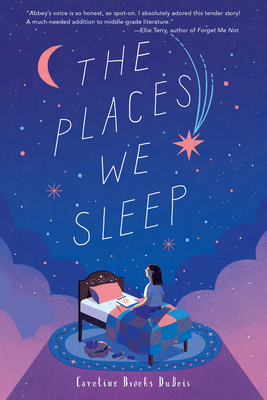 The Places We Sleep
Hardcover

* Individual store prices may vary.
Other Editions of This Title:
Paperback (7/12/2022)
Fall 2020 Kids Indie Next List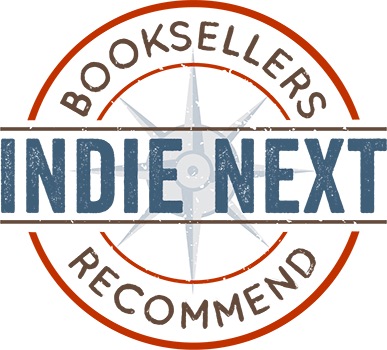 "This middle grade novel-in-verse follows Abbey, the only child in a military family who is adjusting a new school for the 2001–2002 school year. On September 11, Abbey gets her first period. Abbey grapples with love and loss, family and friends, finding her passion, and connecting to her parents. A beautiful book that effectively captures the post-9/11 world from a 12-year-old's perspective."
— Kate Storhoff, Bookmarks, Winston-Salem, NC
View the List
Description
A family divided, a country going to war, and a girl desperate to feel at home converge in this stunning novel in verse.


Selected for Kids Indies Introduce List AND Kids Indie Next List

It's early September 2001, and twelve-year-old Abbey is the new kid at school. Again.

I worry about people speaking to me / and worry just the same / when they don't.

Tennessee is her family's latest stop in a series of moves due to her dad's work in the Army, but this one might be different. Her school is far from Base, and for the first time, Abbey has found a real friend: loyal, courageous, athletic Camille.

And then it's September 11. The country is under attack, and Abbey's "home" looks like it might fall apart. America has changed overnight.

How are we supposed / to keep this up / with the world / crumbling / around us?

Abbey's body changes, too, while her classmates argue and her family falters. Like everyone around her, she tries to make sense of her own experience as a part of the country's collective pain. With her mother grieving and her father prepping for active duty, Abbey must learn to cope on her own.

Written in gorgeous narrative verse, Abbey's coming-of-age story accessibly portrays the military family experience during a tumultuous period in our history. At once personal and universal, it's a perfect read for fans of sensitive, tender-hearted books like The Thing About Jellyfish.


An NCTE Notable Book in Poetry
A Bank Street Best Children's Book of the Year
Praise For The Places We Sleep…
★ "Writing in captivating verse, DuBois brilliantly evokes tension as she chronicles the horrors of 9/11 and Abbey's personal tragedies. With a strong, genuine voice, Abbey conveys her journey from insecurity to belonging. As she shares her challenges, discoveries, and triumphs, readers will encounter themes of xenophobia, war, depression, and the difficulties of menstruation. This dynamic tale provides a gutsy glimpse of one girl's experience on the cusp of womanhood, the trauma of loss during 9/11, and the sustaining power of bravery and friendship."—School Library Journal, Starred Review

"DuBois uses free verse for Abbey's first-person narration, skillfully conveying her protagonist's pained and halting thoughts, occasionally integrating a lone, subtly meaningful rhyme." —Kirkus Reviews

"Abbey's voice is so honest, so spot-on. I absolutely adored this tender story! A much needed addition to middle-grade literature."—Ellie Terry, author of Forget Me Not

"Through a series of poems told in the first person, Abbey reveals the inner thoughts she cannot share with others . . . As time progresses, Abbey begins to feel at home, finds the courage to speak up for her friends, and expresses herself through her art."—Booklist

"This novel-in-verse moves very quickly and realistically depicts the confusion a teenage girl might encounter as she matures. This title is absolutely appropriate for a middle school library but would be enjoyed by older girls as well. It would fit nicely into a lesson that focuses on coming-of-age literature and on the struggle to fit into one's changing community, world, and body."—School Library Connection

"A lovely book in verse that juxtaposes an important event in a girl's life and an important event in the United States: September 11, 2001. Abbey's family has just moved again and her body is changing, her mom is worried, and her dad might be headed for active duty, but Abbey has her new friend Camille and is gaining independence. I fell into this story and did not resurface until I was done. Brilliant."—Rebecca Crosswhite, Rediscovered Books (Boise, ID) 

"A beautiful and gentle novel in verse about a girl in the midst of the fallout of 9/11. DuBois focuses on the aftermath of that day and the repercussions that followed for months and years, including having a father who is deployed following the attack, a friend at school dealing with Islamophobia, and the loss of her aunt in the Twin Towers. Dubois covers everything you could want to cover about the attack, but in a way that makes it super relatable and easy to digest for young readers."—Lauren Nopenz Fairley, Curious Iguana (Frederick, MD)
 
"The Places We Sleep is a beautiful and moving novel in verse about a girl navigating her way towards adolescence in the midst of a national tragedy. Abbey has just moved to Tennessee and is trying to find her way in a new school when the attacks of 9/11 happen. We follow Abbey as she deals with the fallout of 9/11 and the loss of the feeling of security the entire country felt. She grieves for an aunt, worries for her deployed father, and witnesses the xenophobia that reared its ugly head in the wake of that tragedy. If you are an adult, you'll be transported back to that strange, unreal time. If you are younger, it will give you an idea of what it was like during those uncertain times. Either way, you will fall in love with and root for Abbey."—Chelsea Bauer, Union Avenue Books (Knoxville, TN)
 
"Abbey is an Army kid, used to moving from city to city and school to school as her dad's orders change. On a seemingly ordinary fall day, Abbey gets her first period. With no friends to turn to for help and white pants in danger, Abbey almost misses the whispers in the hallways — buildings in New York and Washington have been attacked, are burning, are falling. The date is September 11, 2001. As Abbey's mom drives to New York to search for her sister, who is missing in the rubble of the Twin Towers, Abbey is left to enter womanhood on her own. This coming-of-age story, laid out in spare, heartfelt verse, juxtaposes a very intense personal change with a cataclysmic national change, deftly navigating Abbey's search for belonging amidst her fracturing family. The Places We Sleep is a beautiful, necessary story and was a joy to experience."—Emily Hall Schroen, Main Street Books (St. Charles, MO)

Holiday House, 9780823444212, 272pp.
Publication Date: August 25, 2020
About the Author
Caroline Brooks DuBois is a poet and educator who received her MFA from the University of Massachusetts, Amherst. After teaching English at the middle school, high school, and college level, she was named a Nashville Blue Ribbon Teacher. The Places We Sleep is her debut novel. Caroline lives in Nashville, Tennessee with her family. Visit her online at carolineduboiswrites.com.