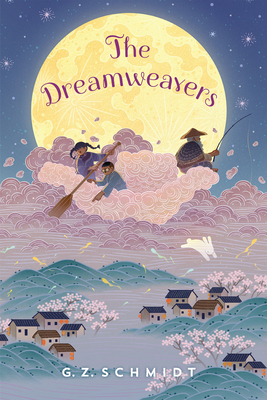 The Dreamweavers
Hardcover

* Individual store prices may vary.
Description
Twin siblings sneak into the emperor's palace to break a curse in this Chinese folklore-inspired fantasy adventure set in the Ming Dynasty.

"[A] magical adventure, which shoots for the moon—and succeeds."—Entertainment Weekly

Twins Mei and Yun can't wait for the Mid-Autumn Harvest Festival, even though strange things keep happening in their village. A gloomy atmosphere has settled over the land and their grandpa's usually delicious mooncakes instead taste horrible and bitter, insulting the prince who tastes them.

Determined to clear grandpa's name, Mei and Yun journey through the City of Ashes, visit the mysterious Jade Rabbit, and encounter a powerful poet, who makes them a pact: infiltrate the royal palace to expose a past royal injustice, and the poet will remove the curse that has ensnared their grandfather and village.

Seamlessly weaving together folklore, palace intrigue, and historical detail, G. Z. Schmidt delivers an unforgettable adventure set in the Ming Dynasty about sibling bonds and the importance of the past. The beautifully illustrated cover by artist Feifei Ruan shows the twins riding a floating cloud, whose softly curved edges shine with printed gloss. Back matter includes further information on Chinese mythology, philosophy, and more. An enchanting experience, The Dreamweavers is perfect for young fantasy readers.

A New York Public Library Best Book of the Year
A CCBC Choice
Praise For The Dreamweavers…
"A magical adventure, which shoots for the moon--and succeeds."--Entertainment Weekly

★ "The book resonates with excitement and fantasy as Mei and Yun experience magic firsthand while using their wits and brainpower. . . . The story is balanced with imagination, love, sadness, new friends, old foes, and enchantment. . . . Rick Riordan fans will find this story to be entertaining and engaging as the magical adventure unfolds."—School Library Journal, Starred Review

"Schmidt has nicely woven Chinese mythology and history into a fantastic adventure. Readers will find themselves entranced by Schmidt's writing, which will draw them in much in the same way that a storyteller captivates listeners when retelling a folktale."—Booklist

"Schmidt creates a beautifully folkloric atmosphere imbued with elements of Chinese culture and myth. Mei, with her gut instinct and fighting skills, and Yun, with his nearsightedness and quick intelligence, make for a compelling lead duo, with plenty of opportunity for comedy and plot-propelling revelations."—The Bulletin of the Center for Children's Books

"An entertaining tale . . . . "—The Horn Book

"In homage to her Chinese roots, Schmidt adroitly interweaves fantastical mythology with the historical context of the Ming Dynasty. . . . the twins' unbreakable bond, paired with rich folkloric details, make for a heartening read."—Publishers Weekly

"Seamlessly incorporates folklore and magic into a vivid middle-grade adventure about sibling bonds and destiny. . . . Chinese mythology and philosophy play a prominent role in The Dreamweavers, with Schmidt sewing the Jade Rabbit (a popular character in Chinese culture), the dream world, and yin and yang into her spellbinding story. . . . An entrancing story about the power of dreams, helping others and controlling our own destinies."—Shelf Awareness

"An enchanting tale."—Kirkus Reviews
Holiday House, 9780823444236, 272pp.
Publication Date: September 14, 2021
About the Author
G. Z. Schmidt was born in China and immigrated to the United States when she was six. She grew up in the Midwest and the South where she chased fireflies, listened for tornado warnings, and pursued a love of reading. In the third grade, she began writing stories in a spiral-bound notebook, and never looked back. She is the author of No Ordinary Thing and The Dreamweavers, which was named a New York Public Library Best Book of the Year and a CCBC Choice book. She currently lives in California with her husband and their tuxedo cat.