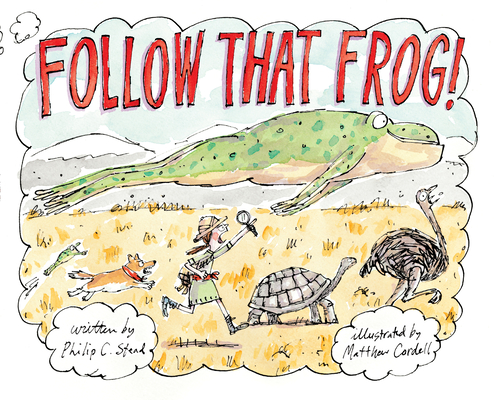 Follow That Frog!
Hardcover

* Individual store prices may vary.
Description
When a curiously croaking stranger comes knocking at the door, Aunt Josephine launches into a rambling tale about her lifelong pursuit of a rare giant frog.

Eccentric Aunt Josephine poignantly ignores a stranger knocking at her door as she tells her niece Sadie the story of her time in the jungles of Peru, cataloguing amphibians for the scientific team of Admiral Rodriguez. When the admiral's son was suddenly swallowed by a giant frog, Aunt Josephine gave chase in a journey which took her around the world.

In the tradition of Philip Stead and Caldecott Medalist Matthew Cordell's previous collaborations Special Delivery and The Only Fish in the Sea, this is a story full of rambunctious fun and sensationally appealing artwork.

A Junior Library Guild Gold Standard Selection
Praise For Follow That Frog!…
★ "Cordell's illustrations have the loose, but quite detailed, feel of Quentin Blake, and depict Aunt J's untidy home filled with memorabilia. The font size changes, depending on the knocking, shouting, barking, grunting, or crowing going on at each moment, which adds liveliness to an already vigorously engaging story. A fit ending will please children who will be enthralled with the action and entertainment Aunt J's tale brings."—Booklist, Starred Review

★ "This quirky readaloud is accentuated by Matthew Cordell's scribbly pen lines and watercolor, showing great detail in Aunt Josephine's grand adventures and adding background bonuses that are bound to make rereads interesting. Aunt J is comically verbose in her stories, and younger viewers will likely pick up on some new vocabulary through her tale. This hilarious story would be well suited for a lapsit storytime or any situation that requires a good laugh."—The Bulletin of the Center for Children's Books, Starred Review

★ "Large, handwritten block onomatopoeic words will draw in readers' eyes while perusing this picture book. . . . The book culminates in an ending young readers won't see coming, and one that will certainly illicit more than one or two giggles. The vocabulary is complex, which will likely prompt some questions and discussion. Cordell's illustrations, done in pen, ink, and watercolor, are just the right level of humor for the narrative."—School Library Journal, Starred Review

"Text and art duel with each other to make the antics more and more outlandish, and every page-turn yields an unexpected and wonderfully ridiculous plot development. . . . All the while, someone keeps knocking at the door, where the perfect ending awaits on the other side."—The Horn Book

"More female-powered action from an inspired creative team."—Kirkus Reviews

"Cordell's loopy, frenetic drawings savor her journey's every inanity: sailing a bathtub, riding a whale. . . . any vehicle for Cordell's sweet-tempered mayhem is a treat."—Publishers Weekly
Neal Porter Books, 9780823444267, 32pp.
Publication Date: February 2, 2021
About the Author
Philip C. Stead is the author of the Caldecott Medal winner, A Sick Day for Amos McGee, illustrated by his wife, Erin E. Stead. Their collaboration, Music for Mister Moon, won the Great Lakes Great Reads Award. Philip has written and illustrated many picture books including Hello, My Name is Ruby, Jonathan and the Big Blue Boat, A Home for Bird, All the Animals where I Live, and Vernon is on His Way. He also illustrated Charlotte Zolotow's In My Garden for Holiday House. He lives in Ann Arbor, Michigan.

Matthew Cordell is the Caldecott Medal-winning author and illustrator of Wolf in the Snow and Hello Neighbor!: The Kind and Caring World of Mister Rogers, recipient of four starred reviews, and the illustrator of numerous highly acclaimed children's books including Philip C. Stead's books The Only Fish in the Sea and Special Delivery, which was a Washington Post Best Book. He wrote and illustrated Another Brother, Wish, and Hello! Hello!, a New York Times Notable Children's Book. Matthew lives near Chicago with his wife, author Julie Halpern, and their two children.