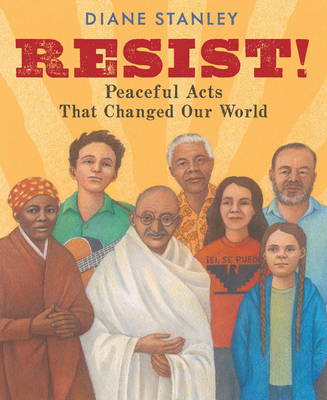 Resist!
Peaceful Acts That Changed Our World
Hardcover

* Individual store prices may vary.
Description
As a new wave of protests sweeps the nation and the world, young readers will be inspired by these accounts of activists who refused to be ignored.

"This book is right on time."--Nikki Grimes, Children's Literature Legacy Medal Winner

From music to marches, from sit-ins to walk-outs, activists throughout history have defended the disenfranchised and demanded reform, refusing to back down even in the face of violent oppression and overwhelming opposition. Today, a new generation of activists has arisen, speaking up in unprecedented numbers against systemic oppression, bias, and injustice.

Resist!, a collection of 21 brief but comprehensive essays accompanied by striking artwork and rich supplementary material by Diane Stanley, reminds us of the activists who came before: the men and women who have used peaceful resistance and non-violent protests to make their voices heard.

Featured figures include: Harriet Tubman, Elizabeth Cady Stanton, Woody Guthrie, Mohandas Gandhi, Irena Sendler, The Hollywood Ten, Claudette Colvin and Rosa Parks, Ruth Bader Ginsburg, The Greensboro Lunch Counter Sit-in protestors, Martin Luther King, Jr., Larry Itliong, Dolores Huerta, Cesar Chavez, Richard Oakes, The Tree-Sitters of Pureora, Father Luis Olivares, Tank Man, Nelson Mandela, Ryan White, Ai Weiwei, the "It Gets Better" Project, The March For Our Lives protestors, and Greta Thunberg.

Diane Stanley, award-winning author and illustrator of many distinctive informational books for young people writes with passion and conviction of the world's greatest activists, past and present, in this book which is as hopeful as it is inspiring.
Praise For Resist!: Peaceful Acts That Changed Our World…
"A nuanced, inspiring research tool that will empower readers to utilize the power that young people have to create change and promote social justice." —School Library Journal


"This book is right on time.  Some of these inspiring stories of nonviolent resistance will be familiar to young readers while others, including that of Irena Sendler, an unsung heroine of the Holocaust, will be a revelation.  Like acts of nonviolent resistance themselves, these stories are sometimes quiet, but always powerful."—Nikki Grimes, Children's Literature Legacy Medalist

"Stanley condenses history into bite-size pieces in this illustrated collection of one-page biographies accompanied by textural colored pencil and watercolor portraits. . . . the vibrant images and accessible style make this book attractive and easy to use." —Publishers Weekly

"Brief and thoughtful, this informative introduction to change-makers gives inspiration to future activists." —Kirkus Reviews
Neal Porter Books, 9780823444878, 48pp.
Publication Date: September 1, 2020
About the Author
Diane Stanley is the author and illustrator of more than fifty books for children, noted especially for her series of picture book biographies, including Shaka, King of the Zulus and Leonardo da Vinci. She has twice received both the Boston Globe/Hornbook Award and the Society of Children's Book Writers and Illustrators' Golden Kite Award. She was also the recipient of the Washington Post/Children's Book Guild Award for Nonfiction for the body of her work. She lives in Santa Fe, New Mexico.