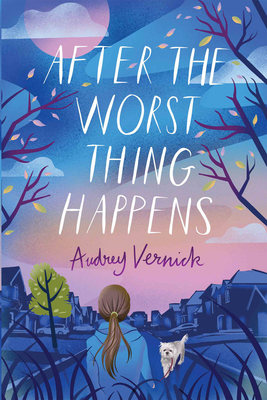 After the Worst Thing Happens
Hardcover

* Individual store prices may vary.
Other Editions of This Title:
Paperback (8/24/2021)
Description
Left reeling after her thoughtless mistake causes a terrible accident, 12-year-old Army Morand channels her grief to help someone in need.

Army Morand feels like her life has been blown to bits when the worst thing imaginable happens--her beloved dog dies. It was an accident, but it was also Army's fault. She can't seem to stop hiding from everything and everybody including her best friend JennaLouise.

But then Army sees Madison, the little girl who moved in across the way, climbing a tree and walking down the street unsupervised. Her family is not neglectful, just overwhelmed. Army finds herself overcome with the need to help Madison's family to make sure another worst thing doesn't happen--which becomes even more challenging when a big storm threatens her town.

After the Worst Thing Happens is a bittersweet story about a girl surprised by the force of a growing need inside her to reach out and lend a hand while trying to escape the swirling sadness of her own sudden loss. In the end, it is about finding love and hope and friendship in very surprising places.
Praise For After the Worst Thing Happens…
"exciting, relatable, and heartwarming, from its tragic start to its very happy ending. . . . There is a lot packed into this story of friendship, loss, and family relationships, but it all gels into one bittersweet, uplifting tale of a young girl who finds strength that she didn't know she had." —School Library Journal

"The subjects are heavy, but Army's young voice infuses them with humor and warmth, even when her path forward seems uncertain. 'Just go with it and make things happen before you totally understand how to do all of it,' Army suggests, a hard-won lesson that young readers will take to heart." —Booklist

"this is fundamentally the story of small moments of growth and insight. Army's first-person narration feels particularly authentic as she navigates her intense feelings"—The Horn Book

"In short chapters told from Army's earnest first-person perspective, she finds new ways to negotiate with her caring but emotionally reserved parents and steps out of her own comfort zone; this exploration of family dynamics is where the novel shines."—Kirkus Reviews

"With moments of humor, Vernick (Two Naomis) weaves together a well-paced story that explores grief in all its raw pain, as well as the power of friends, family, and community to help heal."—Publishers Weekly

"Army's connection with Madison and her family illuminates Army's character, her kindness and conscientiousness shining through even when she's subdued by grief. The premise makes for an arresting booktalk, and readers who come for the drama will stay for Army's recovery."—Bulletin of the Center for Children's Books

Margaret Ferguson Books, 9780823444908, 224pp.
Publication Date: July 7, 2020
About the Author
Audrey Vernick has written many pictures books, including First Grade Dropout, Brothers at Bat, and Bob, Not Bob, co-authored with Liz Garton Scanlon. She also writes middle grade fiction: Water Balloon and Screaming at the Ump, as well as Two Naomis and Naomis Too, co-authored with Olugbemisola Rhuday-Perkovich. Audrey received a 2019 fellowship from the New Jersey State Council on the Arts.