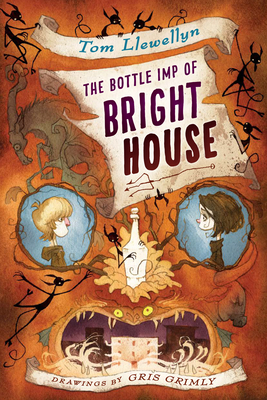 The Bottle Imp of Bright House
Paperback

* Individual store prices may vary.
Other Editions of This Title:
Hardcover (10/9/2018)
Description
School vacation for a year. Eternal happiness. You could wish for anything-- but if it came at someone else's expense, would you still do it?

When a mysterious millionaire sells thirteen-year-old Gabe a bottle containing a wish-granting imp, it comes with a warning: any time Gabe makes a wish, someone else, somewhere, is going to lose something. Maybe something big.

That means each of Gabe's wishes should be a difficult ethical dilemma--but as he scores a Ferrari, a hot tub, and all the pizza and sub sandwiches a kid could want, he's certain a guilty conscience is worth it . . . isn't it?

The Bottle Imp of Bright House is pithy, dark, and very, very funny, exploring the lengths people will go to for happiness-- and the surprising ways small choices can swiftly spiral out of control. Gris Grimly's bold and eerie artwork brings Gabe's misadventures to life.

Inspired by a Robert Louis Stevenson novella, this clever story is full of references to his body of work-- and lots of laughs, too.
Praise For The Bottle Imp of Bright House…
"Gather your Dahl and Snicket fans . . . Llewellyn writes with an edge and with heart, and Grimly's loose ink-and-watercolor illustrations have a whimsical creepiness that matches the tone perfectly."—Booklist

"Exciting and irresistible, this effort casts a spell."—Kirkus Reviews

"Fans of Roald Dahl's James and the Giant Peach or Louis Sachar's Sideways Stories From Wayside School will appreciate Llewellyn's morbid sense of humor."—School Library Journal
Holiday House, 9780823445332, 224pp.
Publication Date: August 25, 2020
About the Author
Tom Llewellyn is a writer, marketer, father, and letterpress poster artist in his hometown of Tacoma, Washington, where The Bottle Imp of Bright House is set. If he were offered a bottle imp, he'd turn it down. So many of his
wishes have already come true that he doesn't want to push his luck.

Gris Grimly has been drawing since he was old enough to hold a pencil. Since then, his elegant, haunting, and critically acclaimed art has graced more than two dozen books including The Dangerous Alphabet by Neil Gaiman, a clothing line for a national retailer, and more. Gris lives with his family in California, where he is wary about
deals that involve insidious little imps.