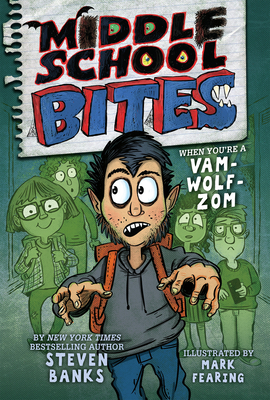 Middle School Bites
Hardcover

* Individual store prices may vary.
Other Editions of This Title:
Digital Audiobook (2/3/2020)
Description
Tom is desperate to fit in at school, but he's hungry and howling, not to mention half dead. Blame it on the vampire - and the werewolf - and the zombie - in this monstrously funny new series from SpongeBob SquarePants head writer Steven Banks.

"Fast! Funny! Fresh!" - Chris Grabenstein, #1 New York Times best-selling author of the Mr. Lemoncello's Library series

"What are you waiting for? Open this book right now!" - Tom Angleberger, New York Times best-selling author of the Origami Yoda series

Thanks to a series of unfortunate bites, eleven-year-old Tom is a triple threat: he's a Vam-Wolf-Zom. And just in time for the first day of middle school. So much for his Invisible Tom Plan. He never thought to make a What If I Turn Into A Vampire Werewolf Zombie Plan. Maybe it's time for a Run Away and Live Somewhere Else Plan?

With the help of his irrepressible best friend, Zeke, Tom tries to accept his future. Zeke thinks being a Vam-Wolf-Zom sounds EXCELLENT! (Zeke thinks everything sounds EXCELLENT!) At least he'll be able to stand up to the sixth-grade bully. The question is will the rest of Hamilton Middle School accept the Vam-Wolf-Zom, too?

Tom's toothsome saga is illustrated with clever, cartoon-style art on every spread. Created by an Emmy-nominated writer for SpongeBob, The Adventures of Jimmy Neutron, and CatDog, this new series is perfect for fans of Diary of a Wimpy Kid and The Last Kids on Earth. EXCELLENT!
Praise For Middle School Bites…
"Fearing adds images of pop-eyed cartoon monsters and middle-schoolers to almost every spread, capped by a startling twist at the close to set up further misadventures. A fang-tastic kickoff."—Booklist

"Tom's first-person narration is frank and engaging; much of the novel's humor arises from his wry, self-aware commentary. A good portion of the remaining humor is drawn from Fearing's grayscale spot cartoons, with their exaggerated facial expressions and exquisitely scratchy details. . . . This series opener is a howling good time."—Kirkus Reviews

"This new novel by the head writer of SpongeBob SquarePants combines typical middle school angst with a hilariously over-the-top monster movie premise. Likable, funny Tom dreams up far-fetched visions of the future. Black-and-white cartoon drawings by Fearing ramp up the humor. . . . With its enjoyable characters and wacky concept, this novel is sure to have wide appeal."—School Library Journal  


"A middle school student who is a vampire, a werewolf, and a zombie, and still fits in better than we did at that age. Laugh out loud funny and real helpful tips for getting through those grades. We wish we'd read it then."— Penn & Teller, hosts of Fool Us & world-renowned stage magicians

"Are you tired of reading books about a kid who only turns into ONE kind of monster? What if I told you about a book where a kid is TWO monsters in one? You'd want to read that book wouldn't you? WAIT! Don't answer yet, because this kid is not ONE, not TWO, but THREE monsters in one! What are you waiting for? Open this book right now! Tom the Vam-Wolf-Zom is standing by to tell you his story!"—Tom Angleberger, New York Times best-selling author of the Origami Yoda series

"This tale of a thrice-bitten kid who has to start middle school as a Vam-Wolf-Zom is three times as funny (and as touching) as your average struggling-to-fit-in story. It made me howl with laughter and want to pour ketchup on my food while shuffling with zombie-like determination to get my paws on the next installment. Monstrously funny."— Maryrose Wood, author of The Incorrigible Children of Ashton Place series
 
"Fast! Funny! Fresh! You'll be tearing through these pages, even if you're not a vam-wolf-zom!"—Chris Grabenstein, #1 New York Times best-selling author of the Mr. Lemoncello's Library series

"Monstrously funny and hilariously terrifying! Steven Banks has been making me laugh for a very long time. Now he's making me laugh and scream!"—Peter Hannan, creator of the Nickelodeon series CatDog
Holiday House, 9780823445431, 304pp.
Publication Date: February 4, 2020
About the Author
Steven Banks is a writer who received an Emmy nomination as head writer on SpongeBob SquarePants, wrote for The Adventures of Jimmy Neutron and CatDog, has appeared on TV shows like Penn & Teller's Fool Us, attended Ringling Brothers and Barnum and Bailey Clown College, wrote a book called King of the Creeps, co-created the international theater sensation Shadowland, and lives in California with his wife. He was once bitten by a donkey, but did not turn into a Donkey Man.

Mark Fearing has never been bitten by a werewolf, a zombie, or a vampire. But he was bitten by the creative bug which is far more dangerous. Books he's illustrated include The Three Little Aliens and the Big Bad Robot, by Margaret McNamara, and Ben Franklin's in My Bathroom!, by Candace Fleming, as well as The Great Thanksgiving Escape, which he also wrote. He lives in Oregon with his family.