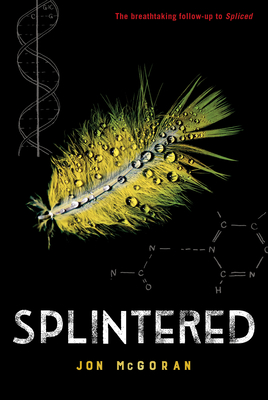 Splintered (Spliced #2)
Paperback

* Individual store prices may vary.
Other Editions of This Title:
Hardcover (9/29/2017)
Hardcover (5/14/2019)
Paperback (2/12/2019)
Description
Seventeen-year-old Jimi Corcoran risks her life to clear a friend's name--and in so doing uncovers the horrific truth about an influential businessman's motives in this second installment of the Spliced series.

After Del's death, Jimi wants to pick up the pieces of her life and move on. But she's become a public figure in her defense of chimeras, and she can't quite shake the spotlight--or her suspicion that she's being followed.

When her friend Dr. Guzman, a chimera sympathizer, is arrested for the murder of a chimera wearing a strange medical bracelet, Jimi does some digging--and eventually discovers that Howard Wells, the venal businessman
and proponent of the Genetic Heritage Act, is supporting a hospital that ostensibly provides healthcare for chimeras.

After teaming up with friends Rex and Claudia, Jimi learns that the hospital is actually a cover for an extensive mining operation that retrieves metals needed to operate WellPlants, the computerized brain implants that only the super-rich can afford--and which have made Howard Wells millions. When Jimi realizes that the perilous mining is being done by captive chimeras, she risks her own life to shut down the operation--and incurs the wrath of one of the most powerful and dangerous people in the world.
Praise For Splintered (Spliced #2)…
"McGoran adds further ethical complications to the crucial political battle for chimera rights, exploring, for example, the uneasy line between acts of resistance and of terrorism. . . . It's definitely exciting"—Booklist

"Dystopian fans have a lot to enjoy in this loosely allegorical novel. The pacing is lightning fast . . . the author explores themes of prejudice and rebellion in a relatable way."—VOYA

 
"In this follow-up to his YA debut, Spliced, McGoran finds his rhythm in an exciting, futuristic thriller. . . . this book is full of enough action-packed thrills and suspense . . . A sci-fi page-turner for readers who enjoy Cinder and Divergent."—School Library Journal
 




Holiday House, 9780823445462, 352pp.
Publication Date: March 24, 2020
About the Author
Jon McGoran has written six thrillers for adults, including the D. H. Dublin series. Spliced, the first book in his YA Spliced series, was named to ALA's 2018 LITA Excellence in Children's and Young Adult Science Fiction Notable List and to the American Bookseller's Association's 2017 ABC Best Books for Young Readers. Jon McGoran is also a founding member of The Liars Club, a blog for and by writers. He lives in Pennsylvania with his family.