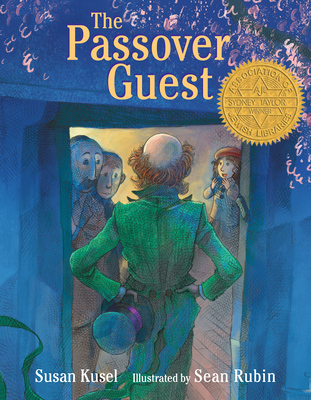 The Passover Guest
Hardcover

* Individual store prices may vary.
Description
Muriel assumes her family is too poor to hold a Passover Seder this year-- but an act of kindness and a mysterious magician change everything.

It's the Spring of 1933 in Washington D.C., and the Great Depression is hitting young Muriel's family hard. Her father has lost his job, and her family barely has enough food most days, let alone for a Passover Seder. They don't even have any wine to leave out for the prophet Elijah's ceremonial cup.

With no feast to rush home to, Muriel wanders by the Lincoln Memorial, where she encounters a mysterious magician in whose hands juggled eggs become lit candles. After she makes a kind gesture, he encourages her to run home for her Seder, and when she does, she encounters a holiday miracle, a bountiful feast of brisket, soup, and matzah.

But who was this mysterious benefactor? When Muriel sees Elijah's ceremonial cup is empty, she has a good idea.

This fresh retelling of the classic I.L. Peretz story, best known through Uri Shulevitz's 1973 adaptation The Magician, has been sumptuously illustrated by noted graphic novelist Sean Rubin, who based his art on photographs of D.C. in the 1930s. An author note with information about the holiday is included.

An Association of Jewish Libraries Spring Holiday Highlight

Praise For The Passover Guest…
★ "Filled with references to the holiday and accompanying traditions, this is a superb addition to modern celebrations. People of various races appear in the background even as the story focuses on a Jewish neighborhood. Abundant details—taking viewers from shtetl to the Capitol, for example—fill every page, enhancing the story's emotions through color and texture. . . . Kusel's charming debut is a necessary volume for every holiday collection."—School Library Journal, Starred Review
 
★ "Told simply, but with great feeling, this story also spotlights DC itself: the Washington and Lincoln Monuments, the White House, and the Tidal Basin with its cherry trees in peak bloom. Rubin's digitally enhanced graphite illustrations are rendered in the style of Chagall in terms of color (blues and greens, accented in yellow), lighting, windows, and even a few chickens. . . . Among the many Passover titles, this one stands out, full of hope and heart and set in a historical context that will resonate today."—Booklist, Starred Review

★ "Rubin's line-and-color art beautifully conveys a Washington, D.C., spring with cherry blossoms blooming, crowded streets that also evoke a long-ago, slightly off-kilter European town, and a gloriously bright holiday evening. Kindness is rewarded and a holiday is celebrated in this endearing, satisfying story."—Kirkus Reviews, Starred Review

"With its warm, forthright narrative and beautifully evoked setting, this book is an enchanting addition to the Passover shelf."—Publishers Weekly
 
"Kusel's adaptation preserves the wonder of a holiday that always captivates children who yearn to lay eyes on Elijah or at least witness a sign that he has indeed visited during their Passover Seder. . . . Recognizable national landmarks ground us in the real world while the rich Chagall-inspired illustrations convey a mysterious, magical quality perfectly suited to this fantasy. From the springtime cherry blossoms depicted in the beginning to the sumptuous Passover spread at the end, this is a wonderful story about hope." — AJL News and Reviews


Neal Porter Books, 9780823445622, 40pp.
Publication Date: January 19, 2021
About the Author
Susan Kusel is a synagogue librarian and children's book buyer for an independent bookstore. She has served as a member of the Caldecott Medal selection committee and the chair of the Sydney Taylor Book Award Committee. The Passover Guest is Kusel's first picture book. She lives in Arlington, VA.

Sean Rubin has illustrated several books for children. He wrote and illustrated the graphic novel Bolivar, which was nominated for an Eisner award and is being adapted into a feature film with Fox Studios. He also illustrated The Astronaut Who Painted the Moon: The Story of Alan Bean by Dean Robbins. Rubin studied art and archeology at Princeton University. He lives in Charleston, VA.