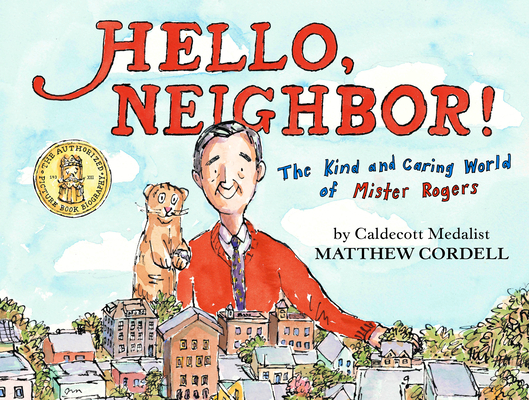 Hello, Neighbor!
The Kind and Caring World of Mister Rogers
Hardcover

* Individual store prices may vary.
Description
Kindness, caring, and reliance on our neighbors are more important now than ever before. We all need more Mister Rogers in our lives.

In difficult times, Mister Rogers' Neighborhood provided a refuge for children and their families alike; a way to understand and talk about what was happening, and find hope for a brighter tomorrow.

Groundbreaking in a quiet, generous way, Mister Rogers' Neighborhood introduced a generation of children to the wonders of the world in the comfort of their own living rooms. Fred Rogers took young viewers to art museums, introduced them to different professions, and talked through difficult subjects like losing a loved one, or experiencing parents' divorce, with compassion and reassurance.

Share that deep respect, care, and quiet joy in the day-to-day with the only authorized picture book biography of Fred Rogers--lovingly created by Caldecott Medalist Matt Cordell.

Lively, colorful illustrations explore Fred Rogers' early life and the events that led him to create his enduring show. Exclusively published archival photographs, provided by Fred Rogers Productions, offer a behind-the-scenes look at this historic show and the people whose hard work made it possible. A brief biography of Mister Rogers and a history of the show is included, as well as a note from author-illustrator Matt Cordell about his inspiration and longtime admiration for Fred Rogers and Mister Rogers' Neighborhood.

Perfect for fans of the film A Beautiful Day in the Neighborhood, starring Tom Hanks, or anyone who wants to bring home the ideals of compassion, kindness, and patience that make us all good neighbors, this captivating picture book should not be missed.

A Junior Library Guild Selection
A Bank Street Best Children's Book of the Year!
Praise For Hello, Neighbor!: The Kind and Caring World of Mister Rogers…
★ "Scribbly lines, soft colors, and earnest storytelling create an open, affectionate atmosphere perfectly in keeping with Rogers's quiet strength and generous heart."—Publishers Weekly, Starred Review

★ "The illustrations bring home the joy that Rogers brought to families every day. . . . In a crowded field of Mister Rogers books, this gorgeous offering stands apart."—Booklist, Starred Review

★ "this book is successful in returning the focus to a child audience, explaining how Rogers was unique and describing his lasting influence. The illustrations include many elements from the show; the act of identifying these details feels like a treasure hunt. . . . Caldecott-winning author Cordell and the iconic Mister Rogers have a lot of neighbors." —School Library Journal, Starred Review

★ "Essential for storytime read-alouds, emotional-literacy curricula, and bedtime snuggles in neighborhoods everywhere."—Kirkus Reviews, Starred Review

"We get to see the underpinnings of his long-running show, "Mister Rogers' Neighborhood," where everything is intentional — how he tackles feelings good and bad, welcomes differences, nurtures curiosity, fuels imagination and sings out his reassurance to kids. . . . Many quotations add Rogers' own voice to bolster his standing as a model of kindness and caring." —The San Francisco Chronicle

"Matthew Cordell has written a book for adults to read to children, but as an illustrator, he also intuitively designed Hello, Neighbor! for children first. As my children began looking through the book, they did not linger over the words at all; they LOOKED without reading, and they were fascinated by what they saw."—NPR.org

"Enhanced by endnotes of fascinating facts from the neighborhood and his life, the book and its illustrations have the intriguing feel of turning pages in a family scrapbook. This lovely reminder of the quiet, compassionate television host is the perfect book to encourage children to talk about kindness, about sadness, and about acceptance."—The Christian Science Monitor

"This authorized biography of Fred Rogers opens as did his iconic television program, with a stoplight flashing yellow, signaling that it is time to slow down and enjoy your surroundings. It's a fitting message for readers who met Mister Rogers as young visitors to his Neighborhood. . . . Cordell's loose pen, ink, and watercolor drawings reflect the leisurely pace of Rogers's speaking and writing styles, while the text is with gentle reminders of his philosophy.. A fine tribute to a fine man."—The Horn Book
Neal Porter Books, 9780823446186, 40pp.
Publication Date: April 6, 2020
About the Author
Matthew Cordell is the Caldecott Medal-winning author and illustrator of Wolf in the Snow, and the illustrator of numerous highly acclaimed children's books including The Only Fish in the Sea (by Philip C. Stead) and Special Delivery which was a Washington Post Best Book of 2015. He wrote and illustrated Another Brother, Wish and Hello! Hello!, a New York Times Notable Children's Book. Matthew lives near Chicago with his wife, author Julie Halpern, and their two children.