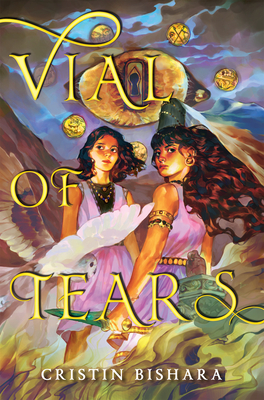 Vial of Tears
Hardcover

* Individual store prices may vary.
Other Editions of This Title:
Digital Audiobook (10/4/2021)
Paperback (3/21/2023)
Description
Two sisters become trapped in the underworld—and in the machinations of deities, shapeshifters, and ghouls—in this lush and dangerous Phoenician mythology-inspired fantasy.

A Kirkus Reviews Best Young Adult Book of the Year

Teenage sisters Samira and Rima aren't exactly living the dream. Instead, they live with their maddeningly unreliable mother in a rundown trailer in Michigan. Dad's dead, money's tight, and Mom disappears to gamble for days at a time. So when Sam's grandfather wills her the family valuables—a cache of Lebanese antiquities—she's desperate enough to try pawning them before Mom can.

But she shouldn't. Because one is cursed, forbidden, the burial coin of a forgotten god. Disturbing it condemns her and Rima to the Phoenician underworld, a place of wicked cities, burning forests, poisoned feasts of milk and lemons, and an endless, windless ocean.

Nothing is what it seems. No one is who they say. And down here, the night never ends.

To get home—and to keep her sister safe—Sam will have to outwit beautiful shapeshifters, pose as a royal bride, sail the darkest sea... and maybe kill the god of death himself.

A lush and intensely imaginative novel in which fierce women protect each other from rapacious gods and hungering demons, and in which two tenacious sisters come into their power, Vial of Tears introduces readers to the rich and brilliant mythology of ancient Lebanon.

A Den of Geek Top New YA
A Shelf Awareness Galley Love of the Week Selection

Praise For Vial of Tears…
A Kirkus Reviews Best Young Adult Book of the Year
A Den of Geek Top New YA Book
A Shelf Awareness Galley Love of the Week Selection

★ "A crown jewel."—Kirkus Reviews, Starred Review

★ "A breathtaking story celebrating familial bonds. Ancestral tales overlace events and provide a satisfyingly rich tapestry of heritage. Sam and Rima are both strong female leads… [A] stunning, vivid YA fantasy."—Shelf Awareness, Starred Review

"Full of magic… This adventure is an escape into a world of mythological creatures."—Den of Geek
 
"A very rich and unique story… Fast-paced and rich with details from Lebanese mythology."—YA Books Central
 
"Bishara's narrative blends Lebanese history and Phoenician mythology to reflect the complications of familial love and the boundaries of life, death, fate, and choice. Through intricate world-building and storytelling, she brings forth a tale from an underexplored mythical foundation."—The Horn Book

"Perfect for the adventure-seeker who wants to fall into another world—literally. Vial of Tears holds the beautiful complications of family close to its heart, all while telling a sweeping story filled with gods and monsters."—Chloe Gong, New York Times bestselling author of These Violent Delights

"Fierce women who aren't afraid to fight for themselves and each other… Poignant, emotional… I absolutely fell in love."—The Bookwyrm's Den
 
"Fascinating and deep… Textured and real… I found myself absolutely engrossed by this book. I've often felt like writers of mythology-based series tend to retread a lot of the same Greek and Norse ground, but Bishara's tale was a breath of fresh air."—Starry Constellation Magazine
 
"The setting with the Phoenician pantheon is complex and will likely be a draw for readers interested in mythology, while the fantasy element is effectively balanced with the realism of the sisters' difficult life circumstances."—The Bulletin of the Center for Children's Books

"I love a good book about siblings. There aren't enough of them in the world in YA. Especially when the relationship is on the siblings and not focused on romance? *chef kiss* …Fresh and exciting."—A Backwards Story
 
"A compelling read full of mysteries, horrors unseen, and emotional struggles… Original and alluring."—Solano County Library Online

Holiday House, 9780823446414, 320pp.
Publication Date: October 5, 2021
About the Author
Cristin Bishara is a writer of young adult fiction. She has worked as a copyeditor and taught writing at the university level. Cristin lives in Florida with her family and dog.