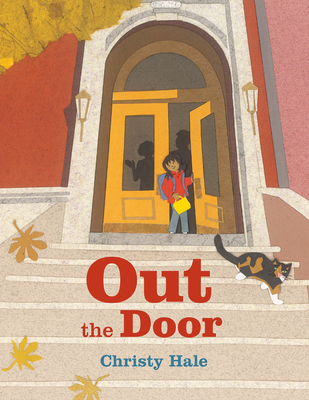 Out the Door
Hardcover

* Individual store prices may vary.
Description
Follow a girl through her day in a busy city as she travels to school and back again in this inviting book that teaches directional concepts like over, under, and through.

Out the door,
down the stoop,
past the neighbors,
along the block ...

Through tree-lined streets, onto a crowded subway car, into the classroom with friends, and finally, retracing her steps back home again. There's so much to see in Christy Hale's warm, richly textured collage artwork and simple, evocative text set in a busy Brooklyn cityscape.

Out the Door is the perfect back-to-school book for young kids learning to find their way around a city. Parents and teachers can use this read-aloud to familiarize kids with a host of directional words to describe their first school days.

A New York Public Library Best Book of the Year
A School Library Journal Best Book of the Year
A Publishers Weekly Best Book of the Year

Praise For Out the Door…
★ "Hale's art presents cityscapes from fluctuating perspectives, populated with a diverse cast of pedestrians, passengers, and classmates. Just right for completists and transit enthusiasts . . . A charming, detailed primer for easing children into new routines and spatial phrases." —Publishers Weekly, Starred Review

★ "The blend of illustrations and simple text provides a great teaching tool for prepositions, but this book is so much more. Celebrating family, community, and the joys of city life through the eyes of a child, the book succeeds on multiple levels."—School Library Journal, Starred Review

★ "It's a perfect back-to-school book, a warm-hearted chronicle of a daily routine, and an appealing introduction to directional and positional prepositions." —The Horn Book, Starred Review

"youngsters will be riveted by the sights and sounds of Hale's city. Out the Door is a charming read that will prompt readers to reflect on their own daily rituals."—BookPage

"The collage illustrations vary perspective, sometimes showing the travelers clearly while challenging readers to look for them at other times. Two subway scenes are particular striking, one of the travelers waiting from the opposite platform and the other a cutaway of the train passing below the streets. Kids can use the word patterns of this easy story to discuss their own experiences."—Kirkus Reviews

"Young readers will delight in the textured, colorful images as an unnamed girl ventures out for the day, going from her front door, through the neighborhood, onto the train, to school, and back home again, each step marked by familiar sights for city dwellers, like subway stations, historic architecture, and skyscraper-filled panoramas. . . . Hale's love for New York and pleasant memories of living there shine through in this playful romp through the city."—Booklist
Neal Porter Books, 9780823446445, 40pp.
Publication Date: October 6, 2020
About the Author
Christy Hale has illustrated numerous award-winning books for children, including four that she also wrote: Todos Iguales/All Equal: Un Corrido de/A Ballad of Lemon Grove, Water Land: Land and Water Forms around the World, The East-West House: Noguchi's Childhood in Japan, and Dreaming Up: A Celebration of Building. An art director, designer, and educator, Hale teaches writing for picture books at the Academy of Art University in San Francisco. She now lives with her family in Palo Alto, California but spent many years in Brooklyn, NY where this book is set.