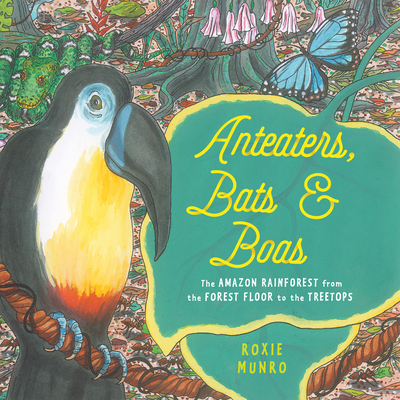 Anteaters, Bats & Boas
The Amazon Rainforest from the Forest Floor to the Treetops
Hardcover

* Individual store prices may vary.
Description
Macaws squawk, snakes coil, and monkeys swing. Follow true-to-size rain forest animals as they journey through a noisy, colorful ecosystem like no other on Earth. Bright, realistic illustrations of a busy Amazon rain forest depict a plethora of creatures, all drawn to size, going about their daily lives, from a family of three-toed sloths to a foldout of an anteater. Accompanying the rich artwork are descriptions of the animals that reveal their habits and relationship to this vital habitat. All the spreads fit together into a panorama of all four layers of an Amazonian rainforest. A key that shows how the pages smartly fit together so that readers can retrace their journey is also included. Over half the world's plant and animal species live in tropical rain forests such as the Amazon. Protecting rain forests from the devastating effects of logging, mining, and climate change is essential to ensure the survival of so many fascinating creatures. A description of the four layers of the rainforest, an index, a map of rainforests worldwide, and a section on protecting rain forests are included. Budding conservationists will love immersing themselves in one of the most biodiverse places on the planet.
Holiday House, 9780823446568, 32pp.
Publication Date: August 10, 2021
About the Author
Roxie Munro has written and illustrated more than 40 books for children, including Dive In and Rodent Rascals, which received three starred reviews. Munro speaks widely at educational conferences on the topic of learning and gamification. She is also the creator of several award-winning apps for children, and her oils, watercolors, prints, and drawings are exhibited in museums and galleries throughout the United States. She lives in New York, NY.