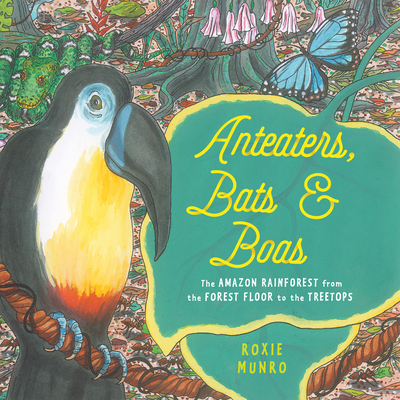 Anteaters, Bats & Boas
The Amazon Rainforest from the Forest Floor to the Treetops
Hardcover

* Individual store prices may vary.
Other Editions of This Title:
Paperback (8/8/2023)
Description
Macaws squawk, snakes coil, and monkeys swing. Follow true-to-size rain forest animals as they journey through a noisy, colorful ecosystem like no other on Earth.

Bright, realistic illustrations of a busy Amazon rain forest depict a plethora of creatures-- all drawn at life size!-- going about their daily lives, from a family of three-toed sloths to a four-page, forty inch wide, foldout of an anteater.

Simply-written, intriguing descriptions accompany the rich artwork, revealing the animals' habitats and introducing fascinating trivia about the creatures and their ecosystem.

A two-page key reveals how all the illustrated spreads fit together into one huge panorama showcasing all four layers of an Amazonian rainforest. Readers can retrace their steps and follow the journey, from the forest floor to the heights of the canopy, revisiting all the unique creatures along the way.

Budding conservationists will love this immersive introduction to one of the most biodiverse places on Earth. Over half the world's plant and animal species live in tropical rain forests such as the Amazon. Protecting rain forests from the devastating effects of logging, mining, and climate change is essential to ensure the survival of so many fascinating creatures.

A glossary, description of the four layers of the rainforest, an index, a map of rainforests worldwide, and a section on protecting rain forests are included in the backmatter of this well-researched, beautiful picture book.

For another life-size journey through a fascinating ecosystem, don't miss Roxie Munro's Dive In!

A Booklist Top 10 Sci-Tech Book for Young Readers
Praise For Anteaters, Bats & Boas: The Amazon Rainforest from the Forest Floor to the Treetops…
★ "Exquisitely illustrated. . . . Once again, Munro's kid-friendly style invites young readers to wonder about the earth and its creatures."—Booklist, Starred Review

★ "Readers must search the images for the creatures introduced in the text and will be captivated by the myriad hues and intricate detail used in each one. To make room for the anteater, two pages fold out, immersing readers even more deeply into this multifaceted world. Paragraphs of accessible text give readers a wealth of facts about each animal in the book, the names of which stand out in colorful, bold letters. . . . This is an important addition to elementary school nonfiction ­collections as a means of encouraging global conservation through education."—School Library Journal, Starred Review

"Each animal is depicted in actual size, displaying its unique and vibrant colors against a lush background, as seen through Munro's vivid, jewel-toned palette of acrylic inks."—The Horn Book

"Animals that dwell at all levels of a South American tropical rainforest are depicted realistically—i.e., true to size and color—in this fascinating book. . . . Each spread highlights one to three creatures presented against a colorful natural-habitat backdrop, accompanied by lively, concise paragraphs."—Kirkus Reviews
Holiday House, 9780823446568, 32pp.
Publication Date: August 10, 2021
About the Author
Roxie Munro has written and illustrated more than 40 books for children, including Dive In and Rodent Rascals, which received three starred reviews. Munro speaks widely at educational conferences on the topic of learning and gamification. She is also the creator of several award-winning apps for children, and her oils, watercolors, prints, and drawings are exhibited in museums and galleries throughout the United States. She lives in New York, NY.