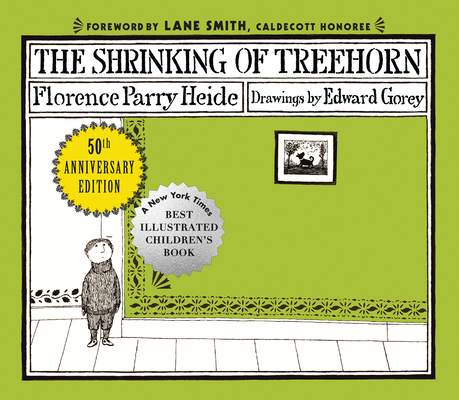 The Shrinking of Treehorn (50th Anniversary Edition)
Hardcover

* Individual store prices may vary.
Other Editions of This Title:
Digital Audiobook (11/11/2019)
Paperback (10/5/2021)
Paperback (1/1/1971)
Description
"If you want to pretend you're shrinking, that's all right," said Treehorn's mother, "as long as you don't do it at the table."

No one around seems to appreciate what Treehorn's going through, when he starts shrinking after playing a strange board game. His parents are busy, his friends laugh at him, and he even gets sent to the Principal's office for shrinking. Or was it shirking?

Clearly, the adults in his life have no clue and can't help. In the end, Treehorn figures it out on his own, and all is well. . . . At least until he turns green.

This oddly offbeat, surreal, and funny story is illustrated with Edward Gorey's signature pen and ink drawings. It will appeal to any kid who feels they're not truly seen or heard by the grown-ups in their life. Works for adults, too.

This 50th Anniversary edition includes an appreciation from Caldecott Honoree Lane Smith, illustrator of The Stinky Cheese Man.

An ALA Notable Children's Book
A New York Times Best Illustrated Book of the Year
Praise For The Shrinking of Treehorn (50th Anniversary Edition)…
"Heide's hilariously deadpan text absolutely skewers adult preoccupation with their own roles and spheres. . . . Gorey's iconic illustrations, which emphasize the mundanity of the setting, are as dry and funny as Heide's text. With a new and cogent introduction by Lane Smith ('Who would have thought the commonplace, the humdrum, could be giddier than a traditional ha-ha-funny children's book?') and additional material by Heide and her son David, this is a long-overdue and most welcome reissue." —The Horn Book

Praise for the original edition of The Shrinking of Treehorn:

"Sheer fun." —School Library Journal

"For any child who has often felt ignored by the adult world, here is a perfect gift to lift the spirits...will bring a chorus of delight from younger readers." —Publishers Weekly


"It is always a pleasure to see that a new vehicle has been found for Edward Gorey's distinctive drawings, and in this instance a fey, imaginative little tale that fits them to perfection....The Alice‐in‐Wonderland quality of shrinking and regrowth is deftly treated. Gorey's drawings—old‐fashioned yet a little mod, Beardsleyesque yet Sunday‐School clean, popping out with a marvelous control of space and odd angles—enhance the feel of melancholy and magic. They conjure up memories of listing attics, fatal lozenges, curious sofas, Willowdale handcars and wuggly umps. Not to mention nursery friezes, pious infants, vinegar works and doubtful guests."—The New York Times
Holiday House, 9780823447039, 80pp.
Publication Date: October 27, 2020
About the Author
Florence Parry Heide (1919 - 2011) was a prolific author of children's books, including The Shrinking of Treehorn and Princess Hyacinth. Heide wrote dozens of other books of prose and poetry and dedicated her career to works that encouraged the curiosity of young readers.

Lane Smith is the illustrator of The Stinky Cheese Man and The True Story of the 3 Little Pigs! by Jon Scieszka. He wrote and illustrated include There Is a Tribe of Kids which won the Kate Greenaway medal in 2017, and Grandpa Green which was a 2012 Caldecott Honor book. His books have been awarded the New York Times Best Illustrated award five times.

Edward Gorey (1925 - 2000) remains one our most recognizable artists, and his distinctive pen-and-ink style has illustrated everything from the iconic alphabet book The Gashlycrumb Tinies to posters for the New York City Ballet to the opening credits of PBS's Mystery. Gorey, in his distinctive raccoon coat, was nearly as renowned as his illustration and he was a tireless lover of the ballet. His work endures, and he is still a celebrated illustrator today. Throughout his career, Gorey wrote more than 100 books, and he illustrated works for T.S. Eliot, Edward Lear, John Updike, Charles Dickens, H.G. Wells, and Bram Stoker. He was a master of dark humor, a lover and supporter of the arts, and a caretaker for animals.