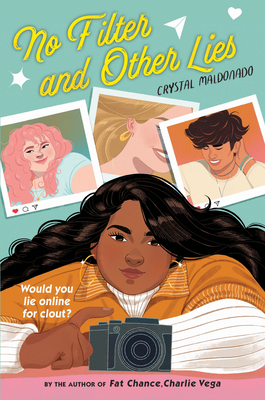 No Filter and Other Lies
Hardcover

* Individual store prices may vary.
Description
You should know, right now, that I'm a liar.

They're usually little lies. Tiny lies. Baby lies. Not so much lies as lie adjacent.

But they're still lies.

Twenty one-year-old Max Monroe has it all: beauty, friends, and a glittering life filled with adventure. With tons of followers on Instagram, her picture-perfect existence seems eminently enviable.

Except it's all fake.

Max is actually 17-year-old Kat Sanchez, a quiet and sarcastic teenager living in drab Bakersfield, California. Nothing glamorous in her existence—just sprawl, bad house parties, a crap school year, and the awkwardness of dealing with her best friend Hari's unrequited love.



But while Kat's life is far from perfect, she thrives as Max: doling out advice, sharing beautiful photos, networking with famous influencers, even making a real friend in a follower named Elena. The closer Elena and "Max" get—texting, Snapping, and even calling—the more Kat feels she has to keep up the façade.

But when one of Max's posts goes ultra-viral and gets back to the very person she's been stealing photos from, her entire world – real and fake — comes crashing down around her. She has to figure out a way to get herself out of the huge web of lies she's created without hurting the people she loves.

But it might already be too late.



A Junior Library Guild Gold Standard Selection
Praise For No Filter and Other Lies…
★ "Maldonado (Fat Chance, Charlie Vega) once again displays her gift for portraying complex family dynamics and layered interiority in this bighearted sophomore novel. . . . Maldonado's writing has a warm and relatable feel, full of insight regarding societal expectations, accountability, and the need to belong within one's own family and the wider world. An ultrasmart contemporary that fully understands what teens face in today's social media–obsessed landscape."—Publishers Weekly, Starred Review

"Kat's struggle for authenticity with her family and friends, not to mention her own sense of self, sparks important questions about what is valued and what is truly valuable. Maldonado's willingness to let Kat be unlikable at times and to embrace a bittersweet and complicated ending highlights the need for nuance and grace in the stories we tell about ourselves and others. As with social media, the real story here requires digging beneath the surface, and it richly rewards the effort."—Kirkus Reviews
Holiday House, 9780823447183, 336pp.
Publication Date: February 8, 2022
About the Author
Crystal Maldonado is a young adult author with a lot of feelings. Her debut novel, Fat Chance, Charlie Vega, is a New England Book Award winner, a Cosmopolitan Best New Book, and a POPSUGAR Best New YA Novel. Her next novel, No Filter and Other Lies, explores teenage life in the social media age—and the lies we tell to ourselves and others. By day, Crystal works in higher ed marketing, and by night, is a writer who loves Beyoncé, shopping, spending too much time on her phone, and being extra. Her work has also been published in Latina, BuzzFeed, and the Hartford Courant. She lives in western Massachusetts with her husband, daughter, and dog. Find her everywhere @crystalwrote or CrystalWrote.com.