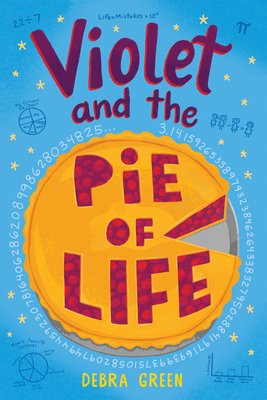 Violet and the Pie of Life
Hardcover

* Individual store prices may vary.
Description
There's no golden ratio for a family, despite what number-crunching Violet might think.

Twelve-year-old Violet has two great loves in her life: math and pie. And she loves her parents, even though her mom never stops nagging and her dad can be unreliable. Mom plus Dad doesn't equal perfection. Still, Violet knows her parents could solve their problems if they just applied simple math.

#1: Adjust the ratio of Mom's nagging to her compliments.
#2: Multiply Dad's funny stories by a factor of three.
#3: Add in romantic stuff wherever possible.

But when her dad walks out, Violet realizes that the odds do not look good. Why can't her parents get along like popular, perfect Ally's parents? Would it be better to have no dad at all, like her best friend, McKenzie? Violet is considering the data when she and Ally get cast in the school play, and McKenzie doesn't--a probability that Violet never calculated. Maybe friendship and family have more variables than she thought.

Filled with warmth, math-y humor, and delicious pie, this heartfelt middle grade read is perfect for fans of The Miscalculations of Lightning Girl. Includes illustrated charts, graphs, and diagrams throughout.
Praise For Violet and the Pie of Life…
"A nice mix of humor and emotional pitfalls: the perfect script for an engaging read."—Kirkus Reviews

"HUMOR + HEART2 + PI = A GRATIFYING MUST-READ!"—Ernesto Cisneros, author of Efrén Divided

"Written with equal parts heart and humor, Violet's attempts to use graphs, charts, and mathematical equations to make sense of shifting middle school friendships and an unexpected change in her family add up to a thoroughly engaging and relatable read." —Alyson Noël, #1 New York Times bestselling author 

"A warm story about a girl who learns to navigate her world with humor, courage, and heart. A sweet, funny, and thoughtful read with a healthy dose of STEM and pie."—Mae Respicio, author of The House That Lou Built
Holiday House, 9780823447558, 256pp.
Publication Date: March 9, 2021
About the Author
Debra Green has written many books for children, including the Silver Pony Ranch series and the Zeke Meeks series, which have been published in eight languages across the globe. She lives in Southern California where she works as a lawyer, as well as an enthusiastic speaker at writing workshops, schools, and conferences. Her favorite kind of pie is apple crumb. Visit her online at debralgreen.com