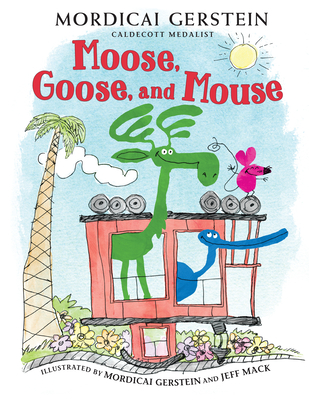 Moose, Goose, and Mouse
Hardcover

* Individual store prices may vary.
Description
Giggles guaranteed! Moose, Goose, and Mouse ride a loose caboose on their way to finding a new house! This funny book by a Caldecott winning author-illustrator promotes foundational reading skills!

"Help!" yelled Mouse.
"It's no use!" said Goose.
"This is fun," said Moose,
"riding in a loose caboose."

Then . . . BONK! . . . the train hits a tree near the sea, where they find the sunny, funny house of their dreams.

An upbeat story about finding the perfect home is accompanied by fun, cartoony art with hilarious details and rhyming and alliterative text to encourage word play. Author Mordicai Gerstein, Caldecott medalist, was a four-time New York Times best illustrated book winner. Moose, Goose, and Mouse is the culmination of the humor, wit, and joy that he brought to his all of his books.

A Junior Library Guild Gold Standard Selection
Praise For Moose, Goose, and Mouse…
"[A] buoyant and uncomplicated tale of animal hijinks related in bouncy read-aloud rhymes."—The Wall Street Journal

★ "The plot is simple, allowing the rhyming wordplay and illustrations to be the true stars of the show, combining into a sublime reading experience. Young readers who enjoy noodlehead stories and playing with language will delight in the goofy rhymes and zany story. . . . Madcap humor at its finest."—Kirkus Reviews, Starred Review

"Simple sentences with predictable structures and plenty of rhyme will both support independent readers and make for comedic read-alouds. Fans of Jan Thomas's picture books and Mo Willems's Elephant and Piggie series will happily befriend this trio of whimsical creatures in their delightfully slapstick adventure." —The Horn Book

"Gerstein's sweet-tempered, sunny view of life shines through this story of a group of creatures who promptly realize that what seems like a chaotic accident is actually the home they've been looking for."—Publishers Weekly

"this title combines rhyming text that encourages identification of words by young readers and invites 'all aboard!' for a thrill ride with a gleeful threesome." —School Library Journal

 "As Moose, Goose, and Mouse reaches its final destination, it carries the message that problems can be solved and that friendship--including Gerstein and Mack's--can lead somewhere beautiful. . . . a giddy runaway-train story powered by rhymes and daffiness."—Shelf Awareness
Holiday House, 9780823447602, 32pp.
Publication Date: January 12, 2021
About the Author
Mordicai Gerstein (1935-2019) was the author and illustrator of The Man Who Walked Between the Towers, winner of the Caldecott Medal. Four of his books have been named New York Times Best Illustrated Books of the Year. As a child, Gerstein was inspired by reproductions of fine art that his mother cut out of Life magazine and by children's books from the library: "I looked at Rembrandt and Superman, Matisse and Bugs Bunny, and began to make my own pictures." After attending Chouinard Art Institute in Los Angeles, he was hired by an animated cartoon studio where he designed characters and thought up ideas for TV commercials.

Jeff Mack is the author and illustrator of many books for young readers, including Just a Story, Hush Little Polar Bear, Good News, Bad News, and Clueless McGee. He has also illustrated award winning picture books and chapter books such as Eve Bunting's Hurry! Hurry! and James Howe's Bunnicula and Friends. He lives in Western Massachusetts.