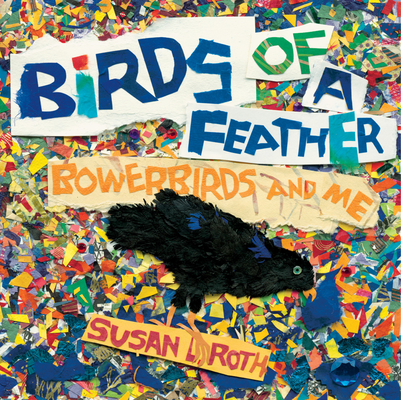 Birds of a Feather
Bowerbirds and Me
Paperback

* Individual store prices may vary.
Other Editions of This Title:
Hardcover (5/14/2019)
Description
One makes colorful paper collages; the other, intricate environments out of found objects. And yet Susan L. Roth and the remarkable bowerbird are truly birds of a feather. Now in paperback.

Sibert Medalist Susan L. Roth is like a bowerbird, a small black bird found in Australia and New Guinea that builds elaborate structures from various materials they find near their habitats.

Though Susan creates books to attract readers and bowerbirds build bowers to attract a mate, both get their ideas from the world around them and the materials they find. Both love colors. No two of their respective creations are alike. And most importantly, both Susan and the bowerbirds aspire for their finished works to be greater than the sum of their parts.

Complete with engaging backmatter and dazzling artwork crammed full of so much to look at, this visually delightful picture book from award-winning author and artist Susan L. Roth is a fascinating comparison of art we create and art we find in nature.
Praise For Birds of a Feather: Bowerbirds and Me…
★ "Blending memoir and nonfiction with deep ruminations on what constitutes an artist, Roth presents parallels between her life as an illustrator and the life of an Australian bowerbird. . . . introspective readers will be satisfied by the reflective nature of the text and the behind-the-scenes look at dual artistic processes.  Roth persuasively argues that "all artists…seek praise," and this ambitious hybrid demands to be seen." —Kirkus Reviews, Starred Review

★ "Part picture-book memoir and part informational text, this fanciful ode to the creative process and the colorful courtship practices of bowerbirds will delight budding artists and bird-lovers alike. . . . The author-illustrator dives deep into how and why she makes her crafting decisions, presenting the artist's process as a fluid endeavor, equal parts cerebral and mechanical. The jewel-toned and textured collage illustrations, filled with paper cuttings as well as found objects, further demonstrate the complexity and ingenuity that each masterpiece entails. Roth and a feathered friend are featured side by side throughout the vibrant pages, and readers will want to jump in alongside them."—Booklist, Starred Review

"There's plenty of meta fun here. . . . Nature lovers and bud-ding artists are sure to be inspired."—The Horn Book

"In this cheerfully offbeat tale, Roth compares her work as a collage artist to the magpie creativity of male bowerbirds, [and] gives young readers an honest look at the creative process that slyly undermines the notion that vaunted human activities are unique. Rich cut-paper collages studded with gems, sparkly pipe cleaners, feathers, and paper ephemera depict artist and bird at work."—Publishers Weekly

★"Roth's writing is simple, direct, and inspirational. . . . The book's collages fly off the pages with color and energy, and the strands of Roth's artfully disheveled hair even resemble feathers. . . . This vibrant book will work well as a read-aloud in a group setting and as a springboard/introduction for creative-thinking and creative-art sessions."—School Library Journal, Starred Review

"The well-known picture-book author and artist takes a quirky look at her own work and some natural history as she compares her collage creating to the male bowerbird's construction of elaborate bowers. . . . Budding artists may be inspired by the inviting maker scenes, while young naturalists will want to hear more about these and other artistic animal creations."—Bulletin of the Center for Children's Books
Neal Porter Books, 9780823449378, 32pp.
Publication Date: August 3, 2021
About the Author
Susan Roth has been making acclaimed children's books for years, using her distinct collaging art style to bring them to life. She received the Sibert Medal for her book, Parrots over Puerto Rico, which she co-wrote with Cindy Trumbore. Some of her other recent titles she has illustrated include See You Later, Amigo!: an American border tale, Prairie Dog Song (which she also co-wrote), and Plants and Animals. She lives in Queens, New York.