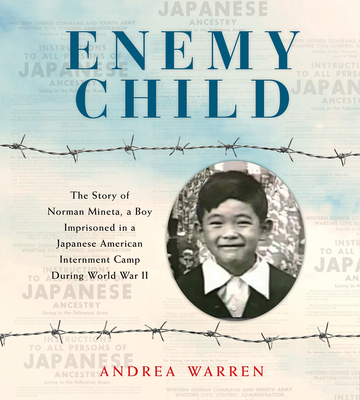 Enemy Child
The Story of Norman Mineta, a Boy Imprisoned in a Japanese American Internment Camp During World War II
Paperback

* Individual store prices may vary.
Other Editions of This Title:
Hardcover (4/30/2019)
MP3 CD (4/30/2019)
Compact Disc (4/30/2019)
Description
It's 1941 and ten-year-old Norman Mineta is a carefree fourth grader in San Jose, California, who loves baseball, hot dogs, and Cub Scouts. But when Japanese forces attack Pearl Harbor, Norm's world is turned upside down.

Corecipient of The Flora Stieglitz Straus Award
A Horn Book Best Book of the Year

One by one, things that he and his Japanese American family took for granted are taken away. In a matter of months they, along with everyone else of Japanese ancestry living on the West Coast, are forced by the government to move to internment camps, leaving everything they have known behind.

At the Heart Mountain internment camp in Wyoming, Norm and his family live in one room in a tar paper barracks with no running water. There are lines for the communal bathroom, lines for the mess hall, and they live behind barbed wire and under the scrutiny of armed guards in watchtowers.

Meticulously researched and informed by extensive interviews with Mineta himself, Enemy Child sheds light on a little-known subject of American history. Andrea Warren covers the history of early Asian immigration to the United States and provides historical context on the U.S. government's decision to imprison Japanese Americans alongside a deeply personal account of the sobering effects of that policy.

Warren takes readers from sunny California to an isolated wartime prison camp and finally to the halls of Congress to tell the true story of a boy who rose from "enemy child" to a distinguished American statesman. Mineta was the first Asian mayor of a major city (San Jose) and was elected ten times to serve in the U.S. House of Representatives, where he worked tirelessly to pass legislation, including the Civil Liberties Act of 1988. He also served as Secretary of Commerce and Secretary of Transportation. He has had requests by other authors to write his biography, but this is the first time he has said yes because he wanted young readers to know the story of America's internment camps.

Enemy Child includes more than ninety photos, many provided by Norm himself, chronicling his family history and his life. Extensive backmatter includes an Afterword, bibliography, research notes, and multimedia recommendations for further information on this important topic.


A California Reading Association Eureka! Nonfiction Gold Award Winner
Winner of the Society of Midland Authors Award's Children's Reading Round Table Award for Children's Nonfiction A Capitol Choices Noteworthy Title
A Junior Library Guild Selection
A School Library Journal Best Book of the Year
A Bank Street Best Book of the Year - Outstanding Merit
Praise For Enemy Child: The Story of Norman Mineta, a Boy Imprisoned in a Japanese American Internment Camp During World War II…
* "By connecting Mineta's story to the larger events of World War II and its impact on Japanese Americans, the author helps readers learn about a frightening historical injustice. . . . an inspiring story of character and endurance despite hardships. An important, well-told story. An excellent choice for social studies classes, literature circles, and libraries. Extensive back matter enriches understanding of this historical narrative.—School Library Journal, Starred Review

* "With so many individual stories, only one absolute emerges from this historical period: a large segment of our population, whether U.S. citizens or first-generation Japanese people deprived of citizenship, were denied their constitutional and civil rights. Warren leaves much to ponder about our nation's past and present, about 'this beautiful tapestry that is America.'"—The Horn Book, Starred Review

"This is absolutely one of the most important stories for all Americans to know. Andrea Warren's skillful research and writing, and Norman Mineta's irrepressible spirit and patriotism, make Enemy Child a truly special book."—Steve Sheinkin, three-time National Book Award Finalist and author of Bomb, The Port Chicago 50 and Undefeated

"Writing efficiently with concise descriptors, Warren narrates in the third person, focusing primarily on the family and social environment of Mineta's school-age years. . . . an invaluable record of an incredible life."—Kirkus Reviews


"Warren's biography adroitly covers Mineta's subsequent education and distinguished career. Extremely well researched and boasting Mineta's cooperation, the book is generously illustrated with period black-and-white photos. It's a fascinating record of an eventful and significant life."  —Booklist

"In Enemy Child, Andrea Warren shares with the world what Norman Mineta's many friends have known for years: He is a national treasure. Her luminous book tells the story of the Japanese American incarceration with depth and grace and shows how Norm's life is truly an American journey."—Shirley Ann Higuchi, Chair of the Heart Mountain Wyoming Foundation

"There are still too few books for youth about U.S. Japanese-American internment, and this affecting volume offers an essential view." —Publishers Weekly

"Warren bases her narrative on interviews as well as other primary and secondary resources, and although readers who have read other work on the internment camps will find much that is familiar, the Mineta family story offers particulars that do not emerge with such clarity in other accounts."  —Bulletin of the Center for Children's Books

Margaret Ferguson Books, 9780823450022, 224pp.
Publication Date: December 28, 2021
About the Author
Andrea Warren is a writer and journalist who has written many award-winning nonfiction books for children, including Orphan Train Rider: One Boy's True Story, winner of the Boston Globe-Horn Book Award; Surviving Hitler: A Boy in the Nazi Death Camps, a Robert F. Sibert Honor Book; and Escape from Saigon: How a Vietnam War Orphan Became an American Boy. Ms. Warren lives in Kansas.