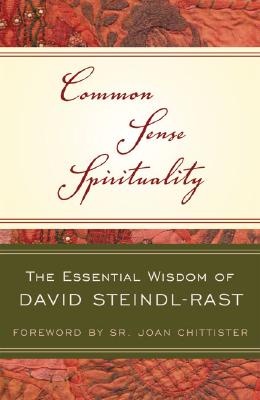 Common Sense Spirituality (Paperback)
The Essential Wisdom of David Steindl-Rast
Crossroad, 9780824524791, 192pp.
Publication Date: October 1, 2008
* Individual store prices may vary.
Description
This collection of David Steindl-Rast's essays directs us back to the true authority--our inner core of knowing.  An invitation to reconnect with the wisdom that grounds us, draws no limits, motivates moral actions, and makes us exhilaratingly alive.
About the Author
David Steindl-Rast is a Benedictine monk, an author, a psychologist, a theologian, an anthropologist, and a lecturer. His pioneering work on behalf of interfaith dialogue won him the Martin Buber Award in 1975. He is the author of Gratefulness, the Heart of Prayer and A Listening Heart and the coauthor of Belonging to the Universe, winner of the American Book Award, and The Ground We Share. He has contributed to numerous books and periodicals, including Encyclopedia Americana and New Age Journal, and serves as founding advisor of www.gratefulness.org. He lives in Ithaca, New York. Sr. Joan Chittister is an internationally known author and lecturer, and the executive director of Benetvision: A Resource and Research Center for Contemporary Spirituality. She is past president of the Conference of American Benedictine Prioresses and the Leadership Conference of Women Religious. Her books include The Friendship of Women, The Gift of Years, In Search of Belief, In the Heart of the Temple, and Wisdom Distilled from the Daily. She lives in Erie, Pennsylvania.
Praise For Common Sense Spirituality: The Essential Wisdom of David Steindl-Rast…
"Benedictine Brother David Steindl-Rast is a spiritual guru, a wise and humble man with a seemingly endless heart." —Tom Fox, Quaker peace activist, National Catholic Reporter
"Brother David writes brilliantly and beautifully and his subject is of deepest interest." —Saint Anthony Messenger
"David Steindl-Rast has earned a reputation as a bridge-builder between East and West in matters of religion and is considered by many to be the foremost bearer of the standard of Christian ecumenism laid down by Thomas Merton." —Parabola
"A vision of being fully alive in mind, body and spirit." —Catholic Library World
"Steindl-Rast has a unique gift for bringing extraordinary concepts into ordinary moments, and reading this collection is like sitting at the feet of a master." —
Presence: An International Journal of Spiritual Direction